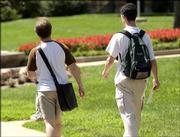 A few years ago, Kansas University students searching for backpacks would go with the traditional, simple two-strap, style.
Today, backpacks can be found in almost any style and color with extra options such as one or two straps, compact disc and cell-phone holders, and special pockets for water bottles.
With classes beginning this month, Kansas University students will be buying new school supplies, and a sturdy backpack will be on their school-supply list.
Many stores sell a variety of backpacks, including the traditional two-strap style, one-strap and the popular messenger bags. Prices for backpacks range from $49 to more than $100, depending on the size and features.
Backwoods Equipment Co., 916 Mass., sees a surge in backpack sales before the fall semester.
"At the end of July and first few weeks of August students start shopping for backpacks," said Sarah Ramirez, a Backwoods employee.
She said students tended to look at backpacks that fit better and had a good warranty.
"Students like the options different styles offer," Ramirez said. "They are now also looking into backpacks that can convert for an overnight backpacking trip or a weekend away."
Multipurpose backpacks are popular for those searching at Backwoods. Some popular brands they offer include North Face, Patagonia and Mountainsmith.
Ramirez said sales for the one-strap messenger bags and two-strap backpacks were equal. It depended on the students' style preferences.
Some students do not look at style or options.
"I only have a book bag because I need one," said Nick Arthachinda, Lawrence senior. "As long as it's big enough to carry all of the books, I don't need to get another one."
Arthachinda has had his plain black backpack since high school.
Copyright 2018 The Lawrence Journal-World. All rights reserved. This material may not be published, broadcast, rewritten or redistributed. We strive to uphold our values for every story published.