Folk art is just that - art made by common folks. There is no special age, no special type. It is anything unique made by an individual. In the 1950s, books about American folk art discussed 18th- and early-19th-century paintings by untrained artists, wood carvings, decoys, cigar-store figures, quilts, early painted furniture, tombstones and decorated stoneware. Today, folk art includes this and more, from fretwork carvings and life-size sculptures made of concrete and broken bottles to almost anything handmade for personal use that's different enough to cause comment. Folk-art pieces that auctioned recently include a memory jar; a plaster-covered pot decorated with charms; broken dishes; and hand-drawn sketches from a diary. Also look for whirligigs, weathervanes, carousel figures, chains made of bottle caps, boxes made of matchsticks, purses made of folded gum wrappers and figures made of carved soap. A major piece of folk art that sold at auction this year is a clock in a fretwork house. The coin-operated clock has moving figures inside. It is 40 inches high and runs on an electric motor, so it must be from the 20th century. It sold for more than $2,000.
Q: Sixty years ago, I bought a three-piece serving set of ceramic dishes marked "Russel Wright, Mfg. by Steubenville." I have a water pitcher, serving bowl and platter. All three are chartreuse and decorated with hand-painted red roses, daisies and leaves. Friends say the flowers must have been added later. What are the dishes worth?
A: Your dishes are from Steubenville Pottery Co.'s American Modern line. The line was designed by Russel Wright (1904-1976), one of the most famous American designers of the 20th century. American Modern was Wright's first line of dinnerware; it was manufactured from 1939 until about 1959. Steubenville called the color of your dishes "chartreuse curry." Very few decorated pieces of this line were made at the factory. The few that were decorated were covered with very simple, one-color patterns. Your dishes were very likely hand-painted by a home craftsperson. The painted decoration decreases the value of your dishes. Undecorated and in excellent condition, the bowl is valued at about $30, the platter at $50 and the pitcher at $140.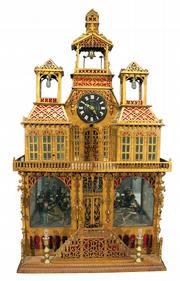 Q: I work at a charity thrift shop. We were left several items from a local estate. One of them is a riveted gold-plated bracelet in its original box. Also in the box are a small screwdriver, two tiny screws and a paper insert explaining that the bracelet is a 1970 Charles Revson edition of an original 1968 gold Cartier "Love Bracelet." Is this Revson bracelet worth a lot?
A: Charles Revson and his brother, Joseph, founded Revlon in 1932 to manufacture and market nail polish. Over the decades, Revlon has sold all kinds of products, including copies of the Cartier Love Bracelet designed by Aldo Cipullo. The bracelet's design was based on an Irish legend. The giver placed the bracelet on a lover's wrist using extra screws to symbolize the couple's commitment to each other. Original Cartier Love Bracelets sell for around $900. Revson copies can sell for up to $90 if they're in mint condition, with the original screwdriver and screws, and the original box.
Q: My wall pocket is shaped like an upside-down, partially opened umbrella. It's green with leaf designs around the upper edge and a white, star-shaped handle at the top with a hole for hanging. It is 9 inches high by 6 inches wide and marked "McCoy USA" on the back. Can you give me some history and value?
A: Your umbrella wall pocket was made by the Nelson McCoy Pottery Co. in the mid-1950s. McCoy was founded as the Nelson McCoy Sanitary Stoneware Co. in Roseville, Ohio, in 1910. Its name changed to the Nelson McCoy Pottery Co. in 1933, and it stayed in business until 1990. McCoy produced some art pottery and a lot of commercial garden wares, including vases and wall pockets. The umbrella wall pockets were made in green, yellow, black and gold. A green one sells today for about $75. But be aware that some McCoy pieces have been reproduced.
Tip
Never wear jewelry in a swimming pool. The chlorine might cause damage.
Current prices
Current prices are recorded from antiques shows, flea markets, sales and auctions throughout the United States. Prices vary in different locations because of local economic conditions.
¢ Cinderella board game, magic wand, 18 playing cards, 8 metal boots, 6 metal slippers, instruction sheet, 1950s, Parker Brothers, $65.
¢ 1893 World's Columbian Exposition sterling-silver spoon, ship picture in shovel-shaped bowl, Columbus, stars-and-stripes shield with eagle on top, 5 3/4 inches, $115.
¢ Cast-iron bottle opener, skull, "Drink It Here, Not Hereafter," white paint, 1930s, 5 3/4 inches, $200.
¢ Cambridge glass celery dish, Rose Point pattern, 3 sections, moonlight blue, 2 1/2 x 13 inches, $310.
¢ Old Gold Cigarettes display, Carole Lombard on front, "So Mild and Easy on the Throat," 1934, 30 x 42 inches, $405.
¢ Leopard pattern overcoat, black silk trim, knee length, Lilli Ann label, 1950s, size 10, $575.
¢ Bennington flint enamel pitcher, ribbed, brown and blue, impressed "1849," 11 3/4 inches, $860.
¢ Effanbee Patsy-Joan doll, composition socket head, short brown bobbed hair, bangs, green sleep eyes, red polka-dot dress, 1935, 15 inches, $955.
¢ Georgian spider gateleg table, mahogany, rectangular top, drop leaves, double gateleg supports, c. 1785, 27 x 29 x 33 inches, $1,195.
¢ Home-Run Stogie Cigar tin, 3 for 5 cents, baseball scene on both sides, turquoise ground, c. 1910, 4 1/4 inches, $2,610.
Copyright 2017 The Lawrence Journal-World. All rights reserved. This material may not be published, broadcast, rewritten or redistributed. We strive to uphold our values for every story published.