On a hot August day when temperatures had reached into the high 90s, Rob Paverud couldn't help but welcome news Tuesday that Ben & Jerry's is putting an ice cream shop into downtown Lawrence.
"You lick it around the edges and just keep going," Paverud, 37, said of his ice cream-eating technique. "I learned that from my mom. If I didn't clean it up, she would take it away and clean it up for me."
Downtown officials also welcomed the announcement.
Ben & Jerry's is going into the storefront at 818 Mass. that was abandoned a few months back by Roly Poly sandwich shop. Observers said the new tenant was proof that downtown retains its vitality, even in a year that - anecdotally, at least - has seen an unusual number of businesses leave and be replaced.
"The good news is, to me, there are a lot of people coming in," said George Paley, who owns eight downtown buildings. "The (empty) stores, I'm happy to say, are leasing quickly."
An informal survey Tuesday of Massachusetts Street, between Sixth and 11th streets, turned up a dozen storefronts that were in transition between tenants or had received new tenants in recent months. Only a couple of storefronts were completely empty.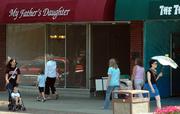 Among the changes: The Toy Store, which is moving out of its longtime location at 841 Mass. to a bigger space at 936 Mass., the former longtime location of Everything But Ice. Lana Best, The Toy Store's manager, said her shop would be replaced at the old site by The Blue Dandelion, a children's furniture store.
"Lawrence is just plain growing," Best said. "Downtown has been very strong for us."
Not everybody sees the change as a blessing. Angie Conrad recently closed her business, My Father's Daughter, after six years in the building at 844 Mass.
"Between taxes, insurance and rent, it's prohibitive to have a business like mine downtown," she said.
Such concerns have the attention of City Commissioner David Schauner, who said downtown property values might be rising so fast that they're pushing established businesses out.
"I think you're going to get a certain amount of turnover, even in a super-healthy economic environment," Schauner said.
"What we're seeing is a ramp-up of values down there that's going to make it so that businesses that have a difficult time anyway ... are just going to go away."
August Dettbarn Jr., in the Douglas County Appraiser's Office, said it's true that downtown buildings generally saw a valuation increase of between 10 percent and 15 percent in 2003. But that year was an anomaly, he said. Other years have seen downtown values rise about 5 percent a year - with tax bills rising accordingly.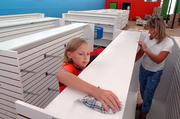 In fact, he said, appraisal values for downtown buildings have generally been lower than actual sales prices. The reason for downtown turnover, he said, is probably natural changes in the market.
Paley has owned downtown properties for more than 25 years. He said the recent turnover of Massachusetts Street businesses was higher than normal, but not enough to cause worry.
"There's been more turnover in the last two, three years than before, but I don't think it's abnormal," he said.
"There's definitely such a thing as too much turnover, but I don't think we're there."
Maria Martin, executive director of Downtown Lawrence Inc., agreed, saying downtown experiences cycles of turnover "from time to time."
Paley said the future of downtown is strong. But city leaders, he said, are wise to pay close attention to the business district's health.
"Downtown is like an ecosystem - it's fragile," Paley said. "We shouldn't take it for granted."
Copyright 2018 The Lawrence Journal-World. All rights reserved. This material may not be published, broadcast, rewritten or redistributed. We strive to uphold our values for every story published.