If you have high expectations, you can go far - even set national and world athletic records.
That's the message Congressman Jim Ryun, the Republican who represents western Lawrence, brought to the high school athletes who were among some 250 people gathered Monday morning at the Red Dog's Dog Days workout.
"There is always someone who says you can't do it. But look for those who believe that you can," Ryun said.
Ryun, a three-time Olympian and former Kansas University athlete, joined the morning workout at KU's Memorial Stadium.
"Where were you 40 years ago?" Ryun said, laughing into a bullhorn as the group took a break.
He recalled how lonely it had been for him to get up and train when he was in high school at Wichita East during the early 1960s.
Ryun said that when he was growing up in Wichita he wanted to be a baseball player. But when he tried out for the team, he was cut. He also was rejected for his junior high track and basketball teams.
When he went out for cross country his first year in high school, his goal was to make the team and get a letter jacket.
Photo Gallery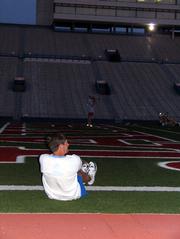 Ryun at Red Dog's Dog Days
But his coach, Bob Timmons, thought he could do more. Much more.
In his fourth race, Ryun won the mile run, with a time of 4:21, at a Kansas City track meet. It was his first win.
As the bus returned to Wichita, Timmons brought Ryun up front to speak to him privately.
"He said, 'I think you can run faster,'" Ryun said.
Timmons wanted him to break the national high school record for the mile, which at the time was 4:08, set at Wichita East.
"So I thought, how do you go from 4:21 to 4:08?" Ryun said. He couldn't understand how he could trim his time.
But Timmons didn't stop there.
"He said, 'You could be the first high school boy to run the 4-minute mile.'"
"When I went to the back of the bus, I realized Coach Timmons was going to demand a lot out of me," Ryun said. "And he was going to have expectations for me to exceed what I didn't possibly think I'd be doing."
Rep. Jim Ryun at Red Dog's Dog Days
The next year, as a junior in 1964, Ryun went to a race in Los Angeles.
"That night, I ran 3:59 for the first time," Ryun said. "I said, 'Coach, I went along with what you said. And my life changed.'"
He went on to qualify for the 1964 Tokyo Olympics. As a senior, Ryun won his third state high school mile title with a time of 3:58.3, a mark that stood for 36 years.
He went on to set world records in the mile, 1,500 meters, half mile, 800 meters and medley relay.
Ryun encouraged the high school athletes at the Dog Days workout to listen to people who are positive.
"Each one of you has a very special talent," he said. "It's just a matter of thinking outside the box."
Copyright 2018 The Lawrence Journal-World. All rights reserved. This material may not be published, broadcast, rewritten or redistributed. We strive to uphold our values for every story published.