Abby Wake planned on attending Kansas University in the fall, until a trip to New York City changed her course. Now, the aspiring actress is headed to Los Angeles to wade through the entertainment industry and hopefully become a star.
Her mother, Wilma Wake, has already spent at least $30,000 for modeling school and travel and entrance expenses to the International Modeling and Talent Assn. conference, which Wake recently attended.
Though the price may seem high, it's a risk the family is willing to take to follow the 18-year-old's dreams.
"It's scary, but I'm up for the challenge," Abby Wake said.
Wake graduated from Bishop Seabury Academy in the spring. She enrolled at KU and planned to study theater and participate on the dance team. She had even paid for her student housing.
But it all changed after she traveled to New York.
Wake has attended talent and modeling school at John Robert Powers in Kansas City for about a year, taking acting classes. It was there that she spotted a flier about the International Modeling and Talent Assn. (IMTA) conference. She decided to give it a try.
Wake auditioned with an on-camera interview. She was among about 20 people picked to go.
Preparation took months. Since October, Wake has traveled to Kansas City every Saturday for a seven-hour practice session. There she practiced dancing and acting and other areas she would need to perfect for the conference.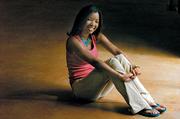 Then, late last month, with six clothing-filled suitcases and her mother in tow, Wake flew to New York.
Showcase winner
More than a thousand aspiring actors and models and dancers participated in the conference. It was an action-packed week, filled with makeup and hair preps and performances and talking with agents.
Wake said she had to look perfect at all times, because she never knew when she might bump into someone who could change her life.
She was among a few picked for the finals in the dance competition.
"We had to dance in the showcase in front of everyone there," she said. "There's all these lights in your face and you're praying you don't fall."
Wake won the showcase. Talent agencies such as The Industry Group out of New York and MMC Entertainment out of Los Angeles gave her cards, Wake said. Agents told her to move to Los Angeles where they could talk more about her career. One said: "I love you. Here's my card." Another said: "I need you to be with me."
Wake also won a $2,000 scholarship to the New York Film Academy.
"It's overwhelming," she said. "It's unreal. You come home and you don't know where to begin."
Preparing for L.A.
Wake was ready to leave for Los Angeles quickly. But she decided to wait a bit to plan. She will leave Aug. 15, heading out to Los Angeles with another young Kansas City girl who attended the IMTA conference. They'll be chaperoned by the young girl's mother. They'll stay for about a week in a hotel and sort through prospects. The goal: to get a good contract with an talent acting/dancing agent.
If that works, Wake plans on staying in California. She said she'll give it six months, maybe more. She plans on taking correspondence courses to continue her schooling. She'll pick up temp work that she can juggle with auditions.
Wilma Wake said she has used money that could have gone to a college fund for her two other children.
"Everyone should know it is a gamble," she said. "It's a gamble, but we're taking the risk."
Trusted agency
Wilma Wake said not all talent agencies and schools have the best interest of aspiring stars in mind. She said she has faith in the director of the Kansas City John Robert Powers agency. And she believes funding the trip to IMTA was worth it, because the alternative would have been to knock on doors until finding the right connection.
"Either way you're going to have to put the dollars out to find the right people or right connections," she said.
If it doesn't work, at least Wilma Wake can feel like she did all she could to support her daughter's dreams, she said.
"At least for me, as a parent, I feel like I've done everything I possibly can without extending my family too much," Wilma Wake said.
Abby Wake said she doesn't know where this path will take her. She'd like to be a dancer, choreographer or actress.
Soap operas. Music videos. Broadway. Dancing next to Usher.
Wilma Wake, a single parent, knows the industry is tough, but she supports her daughter's dreams. And she believes her daughter is prepared to handle some rejection.
"She's prepared to hear the "no's", but she also knows that a "no" is just one person's opinion," Wilma Wake said. "She has good common sense and she knows how to treat people."
"I've had so many dreams," she said.
She likes the limitless possibilities. The IMTA conference has given her steam to keep moving.
"My foot is in the door for something," she said. "I haven't done the hard part yet. That's just the beginning."
Copyright 2018 The Lawrence Journal-World. All rights reserved. This material may not be published, broadcast, rewritten or redistributed. We strive to uphold our values for every story published.