Minneapolis — Curt Schilling wasn't expecting to be needed, but Boston's temporary closer came in to help the Red Sox avoid a sweep.
Schilling picked up his seventh save in Boston's last eight victories, preserving an 11-7 triumph over the Minnesota Twins on Sunday.
Tim Wakefield (11-9) pitched eight innings, but Schilling was forced to come in after Manny Delcarmen struggled in the ninth.
"I certainly didn't think I'd be pitching in the game," said Schilling, who struck out Jacque Jones with the bases loaded for the final out.
Manny Ramirez went 4-for-4 with a homer and three RBIs. He doubled in a run in a five-run first, when the Red Sox batted around and tied a season high with six hits in the inning against Joe Mays (5-7), who had his worst start of the year.
Delcarmen was charged with three runs and left with the bases loaded, and Schilling walked Matthew LeCroy to cut the lead to four before earning his ninth save in 10 chances.
"I was more upset about the walk," Schilling said. "I didn't want to do something stupid to get the tying run to the plate."
Wakefield struck out a career-high 11 and allowed just six hits in eight innings, allowing four runs - two earned. Five times, the knuckleballer set Minnesota hitters down 1-2-3.
"He strikes out people with his movement. Obviously the ball was dancing," Boston catcher Doug Mirabelli said. "He mixed in some other pitches when he needed to."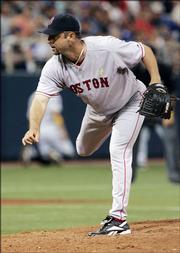 LeCroy struck out three times, once losing his helmet as he stumbled after flailing at a knuckleball on a strikeout to end the sixth.
"His ball was moving all over the place," LeCroy said. "It's amazing how that ball was dancing around today. Then you bring in Schilling, and it looks like 105 (mph)."
It was the third time this season that Wakefield earned a victory in a game that prevented a sweep by the opposition.
"I'm aware of the circumstances, but I can't win it on my own," he said. "The offense was incredible today."
White Sox 3, Mariners 1
Chicago - Jon Garland earned his 16th win, Paul Konerko and Joe Crede homered, and center fielder Aaron Rowand preserved the lead with a spectacular catch. The White Sox's major-league-high 72nd victory came on the day they unveiled a life-sized statue of No. 72, Hall of Fame catcher Carlton Fisk. Chicago won two of three against the Mariners to finish their six-game homestand. Garland (16-5) allowed a run and five hits in 71â3 innings, struck out three and walked two.
Yankees 6, Blue Jays 2
Toronto - Al Leiter won for the second time since returning to New York, and Alex Rodriguez homered and had three hits. Leiter (2-3) gave up four hits in 52â3 scoreless innings, walking four and striking out two in his fifth start with New York. He beat Boston in his debut on July 17, but lost his next three.
Rangers 9, Orioles 3
Arlington, Texas - Chris Young pitched seven shutout innings to earn his first victory in more than a month, Mark Teixeira and Gary Matthews Jr. each homered and drove in three runs, and Texas beat Baltimore. Kevin Mench also connected for the Rangers.
Angels 10, Devil Rays 4
Anaheim, Calif. - Casey Kotchman had his first career grand slam and homered twice, and Los Angeles kept a share of first place in the AL West with a victory over Tampa Bay. Bartolo Colon (14-6) allowed two runs and seven hits in seven innings. He struck out six.
Indians 6, Tigers 5
Detroit - Ronnie Belliard hit a go-ahead three-run homer in the eighth inning, lifting the Cleveland to a three-game series sweep. Casey Blake and Grady Sizemore also homered for Cleveland, which overcame a season-high four errors.
Copyright 2018 The Associated Press. All rights reserved. This material may not be published, broadcast, rewritten or redistributed. We strive to uphold our values for every story published.