Kansas City, Mo. — For more than two months, the Oakland Athletics have found a way to win with Dan Haren on the mound.
Haren pitched seven shutout innings to extend his winning streak to nine games, and the Athletics sent the Kansas City Royals to their 10th straight loss, 11-0, Sunday.
Haren (10-7) is 9-0 in 14 starts since his last loss, May 26 at Tampa Bay. His streak matches the AL's longest winning stretch this season, accomplished by Chicago's Mark Buehrle and Texas' Kenny Rogers.
"Early on, it was more maybe me keeping us real close," Haren said of his winning streak. "There was a stretch there where I wasn't pitching that well, and the offense picked me up every time. Now it's just kind of both clicking. I've thrown the ball better the past few times, and the offense is still rolling and picking me up. It's a nice combination, and hopefully there's two more months of it."
Adam Melhuse, Jay Payton and Bobby Crosby each drove in three runs for the A's, who have won each of Haren's past 14 starts, tying a club record set by Chuck Dobson in 1971.
Haren needed 27 pitches to get out of the first inning, giving up a single and walking Matt Stairs after not issuing a base on balls in his previous two starts.
"After that it was groundballs and double plays," A's manager Ken Macha said.
Haren held the Royals to four hits, struck out six and walked two before being replaced by Kiko Calero to start the eighth inning.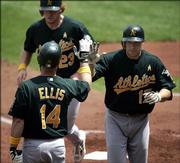 "I threw some pretty good breaking balls, a lot of curveballs," Haren said. "I tried to throw a few more change-ups. I was able to work on that a little bit. My curveball was real good. My fastball command was not as good as it usually is. I walked a couple of guys."
The Royals 10 losses in a row equals the third-longest skid in franchise history and is two shy of a club-record 12 straight defeats in 1997.
"We're playing, really, really bad," Royals manager Buddy Bell said. "We've got to come out of it."
The A's, who were 8 1/2 games out of first in the American League West on July 18, are 18-2 since and remained tied with the Los Angeles Angels, who beat Tampa Bay. The A's are 37-8 over their past 45 games to move to a season-high 17-games above .500.
Oakland, which routed the Royals 16-1 Saturday, scored seven runs in the first two innings. Payton homered, his 11th, with Mark Kotsay and Crosby aboard in a four-run first. Crosby had an RBI single for the first run.
"I thought we were going to get out of the first with just one run," Bell said. "Payton's home run was big. That really messed up the day for us. Then when we're down 7-0 that's really an uphill battle for us. We're struggling to score one or two runs."
Melhuse gave starting catcher Jason Kendall a rest in a day game after a night game.
"Adam hardly gets to play and all he did was hit a home run and catch a shutout," Macha said. "He realizes he's not going to get to play much, but he prepares well. You've got to admire him for his stick-to-it."
Melhuse, who went 3-for-3 with a walk, homered for the first time since Sept. 23, 2004, a span of 32 games. His two-run shot made it 6-0.
"It was just my day to catch. Even if I go 4-for-4 with four home runs, I'm not going to play Tuesday. I'm in there to give Kendall a day off once in a while."
Mark Ellis singled and scored on Kotsay's double to finish a short outing for Royals right-hander Runelvys Hernandez (8-10).
Hernandez faced 11 batters and retired only three, while allowing seven runs and six hits - two home runs - and walked two. After the first four batters reached in the second inning, he was replaced by Shawn Camp.
"I don't know what happened," Hernandez said. "I prepared myself really good today, but nothing was good. That was not me today. I lost everything. I didn't have a power fastball. I didn't have a power breaking ball. I didn't have good control."
Melhuse just missed another home run in the third when his drive hit high off the center-field wall to drive in Kielty, who had a two-out single. Crosby's single in the sixth scored Melhuse, who led off the inning with a walk. Crosby had three hits and three RBIs.
The Royals had only two runners advance beyond second base - Paul Phillips in the fifth and Emil Brown in the ninth.
Notes: The A's have won 15 of their past 16 games at Kansas City. ... A's 1B Dan Johnson went 0-for-5 to snap his four-game home run streak and his career-high 10-game hitting streak. ... The Royals dropped to 5-19 against AL West teams. ... Phillips, who was promoted Saturday, had two of the Royals' hits.
Copyright 2018 The Associated Press. All rights reserved. This material may not be published, broadcast, rewritten or redistributed. We strive to uphold our values for every story published.