Petropavlovsk-Kamchatsky, Russia — The seven men endured darkness and frigid temperatures for three days until their Russian mini-submarine was freed Sunday from the Pacific floor by a British remote-controlled vehicle as oxygen supplies dwindled.
"It was cold, cold, very cold. I can't even describe it," one crew member with reddish hair said as the sailors walked ashore with dazed looks and bloodshot eyes after their vessel was cut loose from cables that had snagged it.
The men aboard the AS-28 mini-submarine - six sailors and a representative of the company that made the ship - had opened the hatch and climbed out without assistance, officials said.
Six were taken to a hospital on the mainland for examination, waving to relatives as they went in. The seventh was kept aboard a hospital ship for unspecified reasons. They appeared to be in "satisfactory" condition, naval spokesman Capt. Igor Dygalo said.
At the edge of the gangplank leading off the ship that brought the crew to shore, the submarine's commander Lt. Vyacheslav Milashevsky held a long and solemn salute, then a slight smile crossed his face.
He was pale but told journalists he felt "fine" before climbing into a van with the others for the trip to the hospital. Another crew member in the van looked from side to side, gazing at the green trees and gray skies.
The men had worn thermal suits to protect them against temperatures of about 40 degrees and were told to lie flat and breathe as lightly as possible during the rescue effort, officials said. To conserve electricity, lights were turned off and contact with the surface was kept to a minimum.
Russian authorities thanked the British and praised the international effort that included the United States, but criticism quickly arose over why the nation's once-formidable navy needed outside help.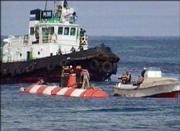 The relief over the successful rescue attempt was in sharp contrast to the sinking of the Kursk nuclear submarine in August 2000, when Russian authorities held off asking for outside assistance until hope was nearly exhausted; all 118 of the crew died.
President Vladimir Putin was criticized then for reluctance to seek international help and for remaining on vacation as the disaster unfolded. The president has been silent through the present crisis as well, although his spokesman Alexei Gromov said Putin was grateful to all those involved in the rescue operation.
Defense Minister Sergei Ivanov, who supervised the rescue operation from a navy ship, clenched his fists and shook them in happiness when he saw the red-and-white-striped sub surfacing.
"We have seen in deeds, not in words, what the brotherhood of the sea means," he said.
Copyright 2018 The Associated Press. All rights reserved. This material may not be published, broadcast, rewritten or redistributed. We strive to uphold our values for every story published.