How Lawrence looks in the future will be determined largely by a document now working its way through the Lawrence-Douglas County Planning Department.
"This absolutely will have a great, great effect on how our community looks and feels," said Lavern Squier, president and chief executive officer of the Lawrence Chamber of Commerce. "It will affect how traffic flows in the community, it will affect future investments made in the community, it will affect so many aspects of what happens in our community."
Planners are continuing to work on a new set of subdivision regulations that will spell out how neighborhoods and commercial development must be built and planned.
The document, which has been in the works for more than two years, is starting to draw the attention of community leaders but it largely is planning and development jargon to the average resident. That's in part why the chamber recently hired Mark Andersen, a lawyer with the Lawrence firm of Barber Emerson, to follow the process.
"The chamber's objective here is to have a code that is both achieving its purpose but has outlined a workable, understandable vision for development in our community," Squier said.
Right now, the draft code is detailing a vision that is exciting to Mayor Boog Highberger. In particular, he said he likes new provisions that would require all new streets in the city to have sidewalks on both sides.
"It is an excellent idea. People will walk if they have a safe place to do it and they have a place to walk to," Highberger said.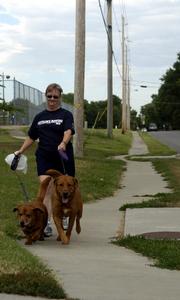 Sheila Stogsdill, assistant director of planning, said the new code places more emphasis on making sure pedestrians can navigate the city easily.
"Some of the pedestrian connectivity issues are more suggestions than actual regulations in the current code," Stogsdill said. "That would change in the new code."
Highberger said he also hoped that the code would encourage a street system laid out on more of a grid than is currently the case in many newer neighborhoods built around cul-de-sacs.
"A lot of times, if you look in the old neighborhoods, there are more options to get where you want to go," Highberger said.
The new regulations also would affect commercial developments. Highberger said one goal of the regulations would be to make commercial developments more compatible with residential developments.
"Right now we have such a strict separation between the two," Highberger said. "Even if you live right next to a grocery store, you probably have no direct access to it. Chances are there's a fence between the two, and you have to walk a quarter mile out of your way to get to the store."
Squier said the chamber will be watching a couple of other provisions related to commercial development. Commissioners in April gave tentative approval to a set of design guidelines for commercial buildings. Those guidelines call for buildings to include at least some natural materials - such as stone or brick - along with designs to better screen and break up large parking lots.
The subdivision codes also will address access issues. Highberger said those likely will be difficult to deal with because they could cause some businesses to close curb cuts or share curb cuts with neighboring businesses.
Highberger said he hopes to have a study session to discuss access issues.
The regulations also will deal with some development issues in the rural parts of the county, including ways that people could build homes without using the controversial five-acre exemption.
The regulations will need approval from both the city and county commissions. Lawrence-Douglas County Planning Commissioners are scheduled to have their first public hearing on the subdivision draft at their Oct. 26 meeting. Highberger said he hoped city commissioners would deal with the issue in early 2006.
Copyright 2018 The Lawrence Journal-World. All rights reserved. This material may not be published, broadcast, rewritten or redistributed. We strive to uphold our values for every story published.