Photo Gallery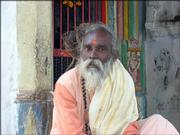 Passage to India
I'm experienced internationally: two years in Uganda, East Africa, in the Peace Corps in the late 1960s and a Fulbright year of university teaching in Nigeria, West Africa. But none of this prepared me for India, though I had the good fortune of going with a longtime Indian friend who knew where to go, how to get there, several Indian languages, and all things Indian.
I'm an amateur at photography. The camera's the pro. But for six weeks in late 2004, many people and places in northeast and northwest India nourished my latent imagination and allowed my camera to do its magic.
I was surprised at seeing my aesthetic response to traveling in India with a camera. I'm really a left-brain kind of guy, recently retiring as a professor at the University of Oregon, where I taught applied educational and social science measurement, research and program evaluation to doctoral students.
While in India, I constantly felt the living, breathing contrasts - foremost the press of the country's billion people and its inseparability from the Hindu and Muslim spirituality in individual daily lives. Though I wasn't conscious of trying to capture this in pictures, it shines through in them.
Copyright 2018 The Lawrence Journal-World. All rights reserved. This material may not be published, broadcast, rewritten or redistributed. We strive to uphold our values for every story published.