San Jose, Calif. — Just 10 minutes before Archbishop William J. Levada gave his farewell Mass in San Francisco on Sunday, about 3,000 supporters loaded their cameras with film and eagerly filled up every one of the more than 200 pews in St. Mary's Cathedral.
Outside, his detractors staged a silent vigil, and one helped serve the embattled church head with a subpoena - ordering him to appear in a Hayward, Calif., law office on Friday to discuss his handling of sex abuse cases involving clergy members while he was the archbishop of Portland, Ore.
The end of Levada's 10-year reign as the leader of the San Francisco Archdiocese did nothing to end the controversy that has swirled around the man who goes to Rome later this month to fill the highest Vatican position ever held by an American.
In a symbolic sermon in which he thanked members of the congregation for their support and prayers, Levada reminded his audience that people are always subject to mistakes while on Earth, and should take the time to focus on a greater vision.
Levada will hold the powerful role of the Prefect of the Congregation for the Doctrine of the Faith at the Vatican - the position held by then-Cardinal Joseph Ratzinger before he was elected pope earlier this year. Levada will be entrusted with overseeing the enforcement of Catholic doctrine.
Outside the cathedral Sunday, tour buses and police cars flanked the sidewalk. Protesters held signs saying "Levada protect children not pedophiles" and wearing T-shirts that read "It's a sin. Stop the coverup."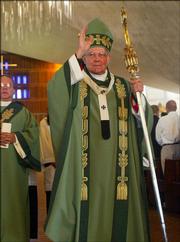 "I'm glad to see him go," said Joe Piscitelli, who claims he was molested when he was 14 by a priest who is now in San Francisco.
Piscitelli believes Levada has done little to bring any transparency to the church's secret dealings with clergy members accused of molestation. The archbishop has been criticized for not revealing the identities of more than a dozen clergy members living in San Francisco who have been accused of sexually abusing children.
But Sunday, even as protesters denounced Levada and the church for the sex abuse scandal, thousands of curious and star-struck churchgoers crowded into the cathedral.
"We have a lot of faith in him," said Vicky Liu, who said she doesn't regularly attend Mass at the cathedral, but couldn't miss Levada's farewell. "It's very honorable for San Francisco."
"Honorable" was not a word that everyone in the audience used to describe Levada or the modern-day Catholic Church. Some said they have grown disenchanted by the sex abuse scandal, which continues to haunt the Church. Just last week, the Roman Catholic Diocese of Oakland announced a $56 million settlement with 56 survivors of sexual abuse, settling all claims of sexual misconduct in which it has been named as a defendant.
Levada remains embroiled in the deeply divisive issue himself, and on Friday will be forced to testify about the handling of clergy sex abuse cases while he was archbishop of Portland from 1986 to 1995. Last year, the Portland Archdiocese filed for bankruptcy after being beleaguered by lawsuits from church members who said they were molested by priests.
Copyright 2018 The Lawrence Journal-World. All rights reserved. This material may not be published, broadcast, rewritten or redistributed. We strive to uphold our values for every story published.