New York — Peter Jennings, the suave, Canadian-born broadcaster who delivered the news to Americans in five separate decades, died Sunday. He was 67.
Jennings, who announced in April that he had lung cancer, died at his New York home, ABC News President David Westin said late Sunday.
With Tom Brokaw and Dan Rather, Jennings was part of a triumvirate that dominated network news for more than two decades, through the birth of cable news and the Internet. His smooth delivery and years of international reporting experience made him particularly popular among urban dwellers.
Jennings dominated the ratings from the late 1980s to the mid-'90s, when Brokaw surpassed him. He remained a Canadian until 2003, when he became a U.S. citizen, saying it had nothing to do with his politics - he did it for his family.
"He was a warm and loving and surprisingly sentimental man," said Ted Koppel, a longtime friend and fellow anchor.
Jennings deeply regretted not finishing school, and he would have wanted that lesson passed along, Koppel said. He made up for it by becoming a student of the world, studying cultures and their people for the rest of his life.
"No one could ad lib like Peter," said Barbara Walters. "Sometimes he drove me crazy because he knew so many details.
"He just died much too young."
Jennings' announcement four months ago that the longtime smoker would begin treatment for lung cancer came as a shock. "I will continue to do the broadcast," he said, his voice husky, in a taped message that night. "On good days, my voice will not always be like this."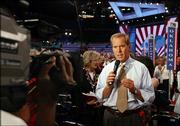 But although Jennings occasionally came to the office between chemotherapy treatments, he never again appeared on the air.
Inauspicious start
Sent by Canadian Television to the U.S. to cover the Democratic national convention in 1964, the handsome, dashing correspondent was noticed by ABC's news president. Jennings was offered a reporting job and left Canada for New York.
As the third-place network, ABC figured its only chance was to go after young viewers. Jennings was picked to anchor the evening news and debuted on Feb. 1, 1965. He was 26.
Critics savaged him as a pretty face unfit for the promotion. Using the Canadian pronunciations for some words and once misidentifying the Marine Corps' anthem as "Anchors Aweigh" didn't help his reputation. The experiment ended three years later.
Assigned as a foreign correspondent, Jennings thrived. He established an ABC News bureau in Beirut, and became an expert on the Middle East.
Jennings returned to the evening news a decade after his unceremonious departure. In 1978, ABC renamed its broadcast "World News Tonight," and instituted a three-person anchor team: Frank Reynolds based in Washington, Max Robinson from Chicago and Jennings, by then ABC's chief foreign correspondent, from London.
Following Reynolds' death from cancer, ABC abandoned the multianchor format and Jennings became sole anchor on Sept. 5, 1983.
Thwarted in final role
Starting in 1986, Jennings began a decade on top of the ratings.
But with Americans looking more inward in the mid to late-1990s, NBC's Brokaw surpassed Jennings in the ratings. When Brokaw stepped down in November 2004, followed shortly by Rather, ABC began an advertising campaign stressing Jennings' experience.
But ABC was never able to learn whether Jennings could take advantage of his role as an elder statesman; his cancer diagnosis came only a month after Rather left the anchor chair.
Copyright 2018 The Associated Press. All rights reserved. This material may not be published, broadcast, rewritten or redistributed. We strive to uphold our values for every story published.