At a campground in the quiet of the Maryland's Catoctin Mountains, 11-year-old Michaela Downing rode bikes with her friends and sat with her grandmother under a canopy of tall trees, with a 78-foot waterfall and glistening lake just a short walk away.
But after dinner, instead of telling ghost stories around the campfire or working on crafts as she did when she was younger, Michaela was hoping for screen time with Shrek, Polly Pocket and SpongeBob SquarePants.
"I might play here more than I play at home," said the girl, clad in a SpongeBob T-shirt and pajama pants, of the Game Boy she didn't want to leave home without.
The wilderness might seem like the last place you'd find video games, computers and DVDs, but today's young people are used to having electronic media virtually everywhere they go. And campground operators, eager to stop their pool of visitors from shrinking, are struggling with how and whether to accommodate them.
To attract visitors, state parks in California, Texas and Michigan are offering wireless Internet access, and Col. Rick Barton, superintendent of Maryland's 49 state parks, says he's exploring the idea.
Likewise, Clinton State Park manager Jerry Schecher has bought into the emerging trend. He has agreed to make the Lawrence lake one of two pilot sites in the state to test wireless Internet for the Kansas Department of Wildlife and Parks. No timeline has been set, but Schecher is anxious to get the service started.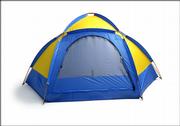 "We get a lot of inquiries about it. A lot of people, particularly people that full-time travel, the Internet is their major link to their relatives and they do their online banking, and if we don't offer it then they have to leave the park and go to the library or go to one of the Internet coffee houses or whatever to try to do their regular business online," he says.
"We still have people who want to come and want to get that more backpacking, unique, wilderness-type experience, but we also have a large part of our constituency that don't want that. They want to come in and plug in and have all the comforts of home. So you have to kind of address both ends of that spectrum."
"Car camping" outings - pitching a tent or pop-up with a vehicle nearby - fell nearly 28 percent between 1998 and 2004, from 338 million to 245 million, according to a recent study by the Outdoor Industry Foundation, which represents retailers and nonprofit groups. Backpacking declined 33 percent, from 98 million outings to 66 million. The National Park Service recently reported drops in visitation as well.
At Clinton State Park, total visitors dropped from 594,000 in 2003 to 475,000 in 2004, Schecher says. The number of campers in those same years fell from 131,000 to 105,000.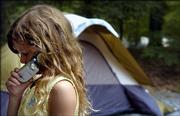 Those campers are dwelling in decidedly more high-tech quarters.
"We can tell that by the fact that our camp sites need upgraded," Schecher says. "The old standard used to be a 24-by-50 campsite with 30 amp utilities was plenty. That's not even a bare minimum now. The sites that we're building now are 30 by 70 with 50 amp service, and in some cases the 50 amp service may not be really adequate."
Lawrence outdoorsman Matt Ramspott says the leap from existing technologies - such as radios and televisions - to wireless Internet at state parks makes sense. He's just not into it.
"When I go camping, I don't want to see the computer," he says. "I'm not interested in e-mail or Internet or anything like that. In fact, it's kind of a nice break to get away from the technology.
"But a lot of the younger generation takes their computers and digital cameras and all that stuff with them."
Michael Lee, a spokesman for the Outdoor Industry Foundation, says his group is exploring ways to use technology to hook kids on camping. One example is geocaching, a kind of high-tech treasure hunting that uses hand-held global positioning system devices.
"Kids who are used to interfacing with a screen can be doing that in the woods," he said.
Scouting stance
At Cunningham Falls' Houck Area campground, where the conditions are still rustic, Geoff and Valerie Price brought a TV with built-in VCR. They didn't think daughter Haylee, 2 1/2, could survive in the woods without "Barney."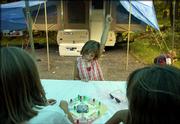 "I was in Boy Scouts for many years, and we didn't have the TVs," her father said. "But the little ones, they like it."
A few campsites away, Alex Ashton, 12, had brought a portable PlayStation and several movies on his camping trip with family friends. The Rosedale boy promised the game player was for "just in case it rains and I'm stuck in a tent or that sort of thing."
As electronic diversions have become more popular and more portable, they have been showing up in unexpected places. Children ages 8-18 spend an average of four hours a day watching TV, videos or DVDs; one hour on a computer, and 50 minutes playing video games, according to a Kaiser Family Foundation study released in March. Fifty-five percent of children in that age group had a hand-held video-game player.
Those trends have even forced Scout camps to deal with the issue. They have generally discouraged high-tech toys.
Durand Reiber, site manager for Hidden Valley Camp, a Lawrence Girl Scout destination tucked into the hills in west Lawrence, says the camp doesn't have a strict policy per se.
"It's generally discouraged for girls to bring hand-held CD players, iPods. Generally when we have events out here, there's other things for them to do, so that would basically be a distraction," she says. "They'd probably end up getting broken or dirty. It's hard enough to keep track of a water bottle."
Reed Blom, director of camping for the Baltimore Area Council of the Boy Scouts of America, said campers at the council's Broad Creek camp in Harford County were encouraged to leave portable electronics at home.
Downtime, he said, is better spent around the campfire. "There's good bonding there and learning to deal with each other," he said.
Copyright 2018 The Lawrence Journal-World. All rights reserved. This material may not be published, broadcast, rewritten or redistributed. We strive to uphold our values for every story published.