Juba, Sudan — On one side of the casket carrying the body of John Garang, the Southern Sudanese guerrilla leader turned statesman, were some of his favorite soldiers from his rebel movement. On the other side, government soldiers, his one-time enemies.
On Saturday, the men united at Garang's funeral, a man who had spent the last years of his life trying to bring them together after decades of war.
"As sure as day follows night, the torch he has kindled shall not be extinguished. Not under my command," said Salva Kiir Mayardit, Garang's successor as head of the Sudan People's Liberation Movement.
Garang, 60, died last Saturday in a helicopter crash, three weeks after he was sworn in as Sudan's vice president. Garang had played a pivotal role in ending decades of civil war between the his southern-based rebels and the northern-based government, a conflict that left Sudan's 2 million people dead and displaced millions more.
News of his death triggered speculation that the peace deal would come apart and several days of violence that left more than 130 people dead. In the capital, Khartoum, where the Arab-led government is based, rioters and looters smashed cars and shops.
Many Sudanese expected more violence Saturday, with old enemies standing shoulder-to-shoulder at the funeral in Juba and emotions running high. Heavily armed government security forces lined the streets along the route of the funeral procession, and rebel forces guarded the funeral attendees.
But it was a day of peace.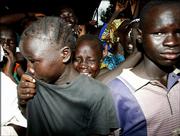 Thousands of mourners attended the funeral, many waving green leaves in a traditional form of mourning. Some of carried photos of Garang and wooden crosses.
The funeral offered a glimpse into the New Sudan, as Garang had called a unified country that he envisioned under a hard-won peace deal. The guest list included old enemies and new allies, ordinary citizens and government officials, all brought together under the hard-won peace deal that Garang brokered six months before his death.
"I am very proud of this man here," said Garang's wife, Rebecca, said, pointing at her husband's coffin.
Garang was seen as the main force behind the peace talks. He spoke English, Arabic and Dinka, his traditional language, and had forged friendships with leaders around the world.
Kiir, a charismatic figure who commands most of the rebel forces, had often sparred with Garang in the past. Concerns about his leadership abilities were out in the open in Juba on Saturday.
"Our Moses is gone. Our Churchill is gone. Our Mezee Jomo Kenyatta is gone," said Bishop Michael Lugar, of the Episcopal Southern Sudan Churches. "It is you now Salva."
Kirr nodded, then stood staring down at Garang's grave.
Copyright 2017 The Lawrence Journal-World. All rights reserved. This material may not be published, broadcast, rewritten or redistributed. We strive to uphold our values for every story published.