Henry Fitch remembers tromping through his father's pear grove in southern Oregon, stuffing snakes, lizards, toads and anything else that wriggled into his pockets.
Some 85 years later, not much has changed.
Last Sunday, Fitch - now 95 - climbed aboard an all-terrain vehicle and watched as two friends searched for snakes on prairie land north of Lawrence.
Every time they found one slithering around, they'd snatch it up and take it to Fitch. He'd hold the snake in one hand as he jotted notes with the other, the whole time with a wide grin across his face. It's a routine he's repeated tens of thousands of times.
"He still has the passion of youth out here," said Scott Sharp, a biology teacher who helps with Fitch's research. "It's always a new kind of discovery."
Even after 56 years living on Kansas University-owned land north of town, Fitch, a retired KU professor, gets excited about hunting snakes. He still goes out in the field, publishes papers and talks at conferences.
His favorite topics still are the venomous snakes living near his house, the copperhead and prairie rattlesnake.
Photo Gallery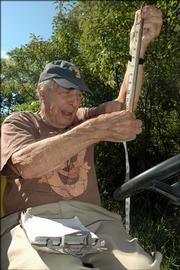 Henry Fitch
"This has been his entire life since 1948," said George Pisani, a retired KU professor and fellow snake researcher. "And Henry will be interested in snakes for the remaining time he has."
Land transformation
Fitch has lived on KU's prairie reserve land so long they named it for him.
The 590-acre Fitch Natural History Reservation - named in 1986 - is one of several tracts owned by KU where biologists conduct studies north of town.
Fitch moved there a year after KU purchased the land. He was hired by E. Raymond Hall, then director of the KU Natural History Museum. Hall previously taught at the University of California-Berkeley, where Fitch did his graduate studies.
The university built a house for Fitch and his wife, Virginia, on the land. There the couple raised three children - two boys and a girl.
"About half of it was a pasture that was really overgrazed," Fitch recalled. "Extensive acreage was cultivated for corn and soybeans."
In other words, it was flat, open land. That has changed.
Today, Fitch's house is surrounded by tall trees and thick brush - as dense a forest as you'll find in Kansas.
"It's awesome to think about the fact Henry is actually older than the woods he lives in," Pisani said. "That's really an amazing thing."
That change has been good for deer but not for other animals. Prairie voles, skinks and lizards are less common. So are the snakes Fitch loves to study.
But there still are plenty of rabbits, bobcats, opossums, foxes, raccoons and coyotes living nearby.
"I've seen 56 years of change," Fitch said. "I've seen overgrown pastures change through stages to pretty much forest now."
Long-term studies
Those 56 years of change also have led to 56 years of data on the land.
Fitch has had so many papers published through the years he's lost count. The tally is probably somewhere between 100 and 200.
He loves studying snakes, but he's published papers on birds, squirrels, spiders, Central American lizards and a menagerie of other animals.
His 1999 book, "A Kansas Snake Community: Composition and Changes Over 50 Years," represents one of the longest continuously running field studies in herpetological history.
"Unfortunately, he's part of a dying breed of consummate field biologists," says Sharp, who lives in Lawrence and teaches in De Soto. "He knows the land. He's studied the land. He's done it all."
Fitch developed a simple technique for tracking the 10 species of snakes found near his house. He has 250 "shelters" - pieces of wood and sheet metal - laying on the ground. Snakes like to hide under the shelters because they're cool and dark.
When Fitch finds a snake, he removes a scale on a snake's belly when he catches it, then records which scale he removes. The scale doesn't grow back, and he's able to tell by where the removed scale is positioned whether he spotted the snake before. His notes let him track snakes through the years.
Pisani is working to transcribe Fitch's notes into a computerized database for future use. Fitch himself switched two years ago from typing notes on a typewriter to doing it on a laptop.
Active life
About seven years ago, Fitch was still jogging between shelters to keep in shape. The exercise helped keep his diabetes in check.
Now, after hip replacement surgery last year and arthritis troubles, he walks with a cane and relies on others to flip over the shelters as he watches from the ATV, a gift he reluctantly accepted and started using three years ago.
Last Sunday's trip yielded only three snakes - a garter snake, ring-necked snake and a racer.
When he was handed the racer, a 3-foot-long snake, it snapped at a helper, leaving a pair of bloody fang marks.
But Fitch didn't flinch. Even copperheads and prairie rattlers don't faze him. He's been bitten by venomous snakes six times but never went to the hospital to have the bites treated.
"When I bring some copperheads home, I'm perfectly relaxed with them," he said. "I suppose my heart rate increases a little, but I've handled so many I know what I'm doing."
Fitch said he would like to write another paper focusing solely on the snake research he's done near his house. But writing that paper might mean he's done collecting data, and he's not ready to stop his field work.
"I have not analyzed the data yet, but I have some impressions," he said. "I'm surprised at how much populations fluctuate. They go from abundance to scarcity.
"Of course, I might never get around to writing it. I am 95 years old."
Copyright 2018 The Lawrence Journal-World. All rights reserved. This material may not be published, broadcast, rewritten or redistributed. We strive to uphold our values for every story published.