They came to see metal crunch and hear engines roar.
Hundreds packed the Douglas County 4-H Fairgrounds' rodeo arena Friday evening for one of the fair's highlighted events: the Demolition Derby.
Howard Clark, of Lawrence, stood outside the arena just before the derby's car-crashing action began. He and his son, Tyree, peered through the chain-link fence and expected to see one thing.
"A lot of good, hard hitting," Clark said. "No light tapping."
He played the role of fan Friday and cheered on a couple of his friends who competed. Clark has driven a car in the derby before, but he gave it up, for now, partially because of the cost, he said.
"It's a big rush," he said.
Friday's competition ran in four heats of between 10 to 13 cars, as drivers saddled into beat-up cars whose primes barely glimmered in their rear-view mirrors. By regulation, only the driver's seats remain while a special fuel tank sits behind the driver with a shield in between.
Photo Gallery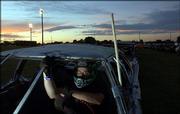 Douglas County Fair 08-05-05
Volunteer firefighters keep close watch. If a car catches fire twice in one heat, it is disqualified.
The object is to be the sole survivor with a wooden stick still attached to the driver's side door. This requires hitting other cars while keeping your car from getting hit.
But, as indicated by the crowd noise Friday as one car smashed into another, fans and drivers tend to remember the crashes most.
"I just want to hit somebody really hard first," said Billy Lown, 20, of Lawrence, just minutes before his first derby action.
Lown was lured to driving because his grandfather, Ken Mooney, is a 25-year veteran.
"My car's nothing special," Lown said of his black 1985 Pontiac.
Then he pointed to his engine with tubes that protruded through the hood.
"I've got chrome tips, though," he said.
Just in front of the rookie's car, veteran driver Tim Gonce sat on top of his blue 1979 Ford LTD Mercury. He said he's tried to retire from the derby several times.
"I can't. Every time I try, somebody brings me a car and I fix it up. Then, here I am," he said.
As Gonce watched the first heat of the evening, the crowd roared about three minutes after the green flag was waved as one driver revved his engine, sped across the muddy surface and smashed a competitor into elimination.
"That was a good one," said one fan to another.
Copyright 2018 The Lawrence Journal-World. All rights reserved. This material may not be published, broadcast, rewritten or redistributed. We strive to uphold our values for every story published.