New York — The return of Nomar Garciaparra and Kerry Wood was supposed to inspire the Chicago Cubs to play better and help them make a run at the playoffs.
Instead, the Cubs made several mental errors in a six-run second inning and were beaten by the New York Mets, 9-5, Friday night to fall under .500 for the first time in a month.
Mike Cameron and Cliff Floyd each had two-run hits in the second, and the Mets had 14 hits - all singles - as they bounced back from two tough losses in a row by outclassing the Cubs in all areas.
Jose Reyes had three singles, stole two bases and scored twice. Carlos Beltran had three hits and stole his 200th career base, and Tom Glavine pitched eight serviceable innings.
In all, the Mets matched a season-high with five stolen bases, and every starter but David Wright had at least one hit. Wright walked three times.
"It was a good game for us to get back on the winning ways," Mets manager Willie Randolph said. "Hopefully we're going to turn the corner here and get into a nice little run."
Despite the return of Garciaparra and Wood from injuries, the Cubs lost for the sixth time in eight games and dropped below .500 (54-55) for the first time since July 10, when they were 43-44. The Cubs and Mets came in tied, five games behind Houston for the wild-card lead.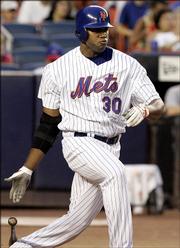 "I don't know if there's more pressure this time of the season," Garciaparra said. "We put pressure on ourselves to perform."
Garciaparra went 0-for-4 in his first start since tearing his groin on April 20 and nearly beat out a grounder to short for a hit in the eighth. He was removed for defense in the bottom of the inning.
"It was nice to be out there," Garciaparra said. "I ran well. Things like that are going to keep coming. This is what I've been working hard for."
Wood pitched the sixth inning, and Scott Williamson made his Chicago debut after having elbow-ligament-replacement surgery in October, striking out two in the seventh.
Brewers 3, Phillies 1 (10)
Philadelphia - Ben Sheets pitched nine dominant innings, and Milwaukee took advantage of two Philadelphia errors on the same base hit in the 10th inning. Sheets' second straight nine-inning effort was nearly wasted by the Brewers until they scored twice against mistake-prone Philadelphia. He improved to 5-1 in his last eight starts.
Dodgers 12, Pirates 6
Pittsburgh - Olmedo Saenz homered while driving in a career-high six runs, and Los Angeles bounced back with three home runs after being dominated in a shutout loss the night before to beat Pittsburgh.
Saenz hit a three-run homer and a two-run double, and Jeff Kent and Ricky Ledee added solo shots as the often low-scoring Dodgers scored 10 or more runs for only the second time in two months.
Marlins 5, Reds 1
Cincinnati - Rookie Jason Vargas shut down the NL's highest-scoring team, Miguel Cabrera and Alex Gonzalez homered, and Florida beat Cincinnati.
Vargas (2-0), making just his second start since being called up from Double-A Carolina on July 14, threw six shutout innings before tiring in the seventh.
Padres 6, Nationals 5
Washington - Livan Hernandez tossed a glove, cap and jacket into the stands after being lifted in the sixth inning, and Washington lost to San Diego on an unearned run in the ninth inning.
The Padres tied it at 5 in the eighth on Eric Young's RBI single off Gary Majewski, then went ahead by scoring off closer Chad Cordero (2-3) - Washington's sixth pitcher.
Cardinals 11, Braves 3
St. Louis - Albert Pujols became the first player in major-league history to hit 30 home runs in each of his first five seasons, helping Mark Mulder and St. Louis end John Smoltz's eight-game winning streak with a victory over Atlanta.
Giants 4, Astros 0
San Francisco - Jason Schmidt pitched eight shutout innings, Lance Niekro hit a two-run homer, and San Francisco handed Houston's Andy Pettitte his first loss in nearly seven weeks.
Rockies 6, D'backs 4
Phoenix - Lance Cormier's errant throw to third in the ninth inning allowed Garrett Atkins to score the go-ahead run, and Colorado beat Arizona.
Mike DeJean (5-2) pitched a perfect eighth for the win.
Copyright 2018 The Associated Press. All rights reserved. This material may not be published, broadcast, rewritten or redistributed. We strive to uphold our values for every story published.