Retirement should be a time of relaxation and enjoying the good life.
But a broken hip, a nasty fracture - any number of injuries can compromise the quality of life for seniors.
Many studies rank falling as the No. 1 cause of injury to the elderly; the British Columbia Ministry of Health Services has even estimated that one-third of people 65 and older fall once per year. Steve Carrier, a Lawrence martial arts instructor in kung fu and tai chi, is all too familiar with the plight of the elderly.
"Seniors fall, they break their hips, they sprain ankles, and I know a lot of seniors break their wrists. That's one of the biggest issues with seniors today," says Carrier, a third-degree black belt in White Dragon kung fu.
Local retirement communities have sought the help of Carrier, hoping to offer their members a chance to develop a new facet of their daily lives that will help prevent them from falling victim to the dangers that a changing metabolism and lifestyle can present in the aging process. Presbyterian Manor, Drury Place and Brandon Woods Retirement Community have arranged for Carrier to teach classes in an ancient Chinese martial art, tai chi, hoping to improve the health and safety of their seniors.
Reading the body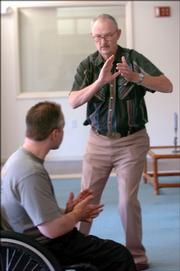 "A lot of seniors become sedentary. Seniors who take tai chi, within one year they can reduce their falls by 40 percent," Carrier says. "Here you teach yourself to read your body. That's why it's good for seniors, because that way they strengthen their bodies. But at the same time it teaches them how to read what their limitations are."
The type of tai chi that Carrier teaches is a slow, flowing style called Pai Lum that was developed out of the Yang system of the martial art. It is a good exercise for seniors because it is designed for each individual and is self-paced.
Longtime Lawrence residents Russell Mosser, 87, and his wife, Lorene, have been taking advantage of Carrier's classes and have found a good match in the martial art.
"I like the pace of it," says Russ Mosser, who entered Kansas University in 1935. "I think it's adaptable to different people's physical ability and condition. I think Steve knows quite a lot about the body and what muscles are where, and he tailors it to the bad places that wear out as you get older."
Hidden dragon
But the fact that tai chi is relaxed and flowing doesn't make it easy. Russ was surprised to feel the effect of an exercise that looked so soft.
"It's kind of deceiving. It's very slow, and most of it involves stretching," Russ says. "The slow movements may make you think you're not doing a great deal, but after the workout you realize."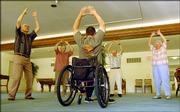 Another hidden aspect of tai chi is the deadly techniques that are contained in what appears to be gentle motion. It takes a trained eye like Carrier's to see them. He shows an example of a technique called "the chicken."
"This is tai chi, and it's done with a nice slow tai chi movement, but it can be done with kung fu speed," the seasoned martial artist says. "To me, in my mind, I see kung fu, and I see an arm break when I do this. They don't see it as kung fu, but I do. I tell them it's kung fu done at slow speed."
Different culture
Practicing Eastern martial arts may seem intimidating or foreign. Lorene Mosser, who has had trouble falling, can relate.
"I had seen some pictures on the tube of people doing it. It did seem a little ridiculous, but it gets to muscles that you don't know about," she says. "The slow movement is part of it. It was a different kind of experience for me. I certainly wouldn't be able to do karate."
Carrier also keeps his instruction secular to avoid turning people away. He strips what are often perceived as supernatural aspects from the martial art for instructing classes with seniors.
"I say, 'If this is all you want out of class, then this is all I'll give you. If you want the mystical side of it, then I will give that to you after class. But I'm going to give (tai chi) to you as exercise,'" Carrier says. "I say, 'If you want the philosophy, if you want the religion, talk to me after class. But I'm not going to force that on you because that's not what you're paying for.' That's what keeps people happy: They're coming for exercise."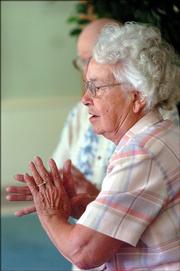 Other options
Another group in town - headed by fourth-degree black belt in Ki-Aikido and KU professor emeritus Andrew Tsubaki - is guided through a more thorough approach to mind and body coordination that incorporates tai chi, yoga, Ki-Aikido meditation and healing massage - even Japanese singing and dance. Tsubaki's goal is not only to tone the bodies of his students and increase their flexibility, but to exercise the mind as well.
"Sometimes (seniors) may still be working, but that's all the exercise they get. They don't realize they have to do something to retain their coordination," says the 74-year-old expert. "The exercises we offer are a much more wholesome approach."
Much as Carrier's exercises intend to work a spectrum of different types of muscles, Tsubaki's philosophy aims to accomplish something similar with mind and body coordination
"Each movement requires a different concentration and pace; different muscles are challenged," he says. "One challenges you to move briskly and in good balance, while tai chi demands control of the body at a slow pace and extension of the body. Singing and dancing will challenge you in breathing and vocalizing your energy, and different kind of artistic movement rather than physical movement."
The Kansas Ki Society, of which Tsubaki is chief instructor, has been offering the elders class since 2002. Tsubaki is sure that his classes can benefit everyone, especially seniors.
"We are preventing people from aging physically through the demands placed on them so they don't get worse," he says. "By working on it at least twice a week, you are more physically alert. We constantly witness this."
Copyright 2018 The Lawrence Journal-World. All rights reserved. This material may not be published, broadcast, rewritten or redistributed. We strive to uphold our values for every story published.