Rich Wakeman, of Law-rence, hopped down from the seat of a red 1960 Farmall 560 tractor, and his 17-year-old son, Curtis, quickly jumped up and took his place.
The engine putted as Rich directed Curtis to take the tractor to the scale.
He wanted to know how much maintenance on the tractor's weight he needed to do before pulling for the farm class got started.
Enthusiasts from Kansas and Missouri fired up their tractors to lug a Mack truck renamed the Mighty Bulldog Sled during the antique tractor pull competition Thursday at the Douglas County Fair.
Event organizers expected the competition to last past midnight.
During the contest, drivers attempt to pull the truck as far as they can across a dirt track in the rodeo arena. Two judges mark the distance at the stop, and then the truck travels in reverse to the starting line for the next tractor to pull.
Photo Gallery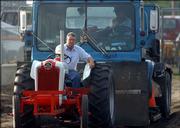 Douglas County Fair 08-04-05
While the crowd sits somewhat subdued, the constant engine revving and putting along with the variety of antique tractor models tend to hold their attention.
"What a good-looking tractor," the event's announcer said over the public address system after introducing a 1954 Ford. "A lot of guys put a lot of work into these."
While Wakeman does work often on tractors, including the restoration of his own that now has a shiny red body, he is no veteran of pulling competition.
"I'm just getting started in it," Wakeman said while standing next to his younger son, Stuart.
For his first competition, fun was all he expected.
"Nobody has any expectations. Bragging rights is all that is in it," he said with a laugh.
Competitors also exhibited their friendly nature as they headed to the established pit area and admired one another's machines between pulls.
"It's just competition. Most everyone are friends. They'll help each other out, and then they can turn around and be your competition," said Mike Bray, a longtime organizer for the event.
Copyright 2018 The Lawrence Journal-World. All rights reserved. This material may not be published, broadcast, rewritten or redistributed. We strive to uphold our values for every story published.