Detroit — Felix Hernandez was pretty impressive in his major-league debut.
But Sean Douglass was even better.
Douglass (4-1) outpitched his 19-year-old opponent, throwing eight strong innings to lead the Detroit Tigers to a 3-1 victory Thursday over the Seattle Mariners. Douglass allowed one run and three hits with four strikeouts and two walks.
The highly touted Hernandez (0-1) gave up two runs - one earned - and three hits in five innings for Seattle, which got a home run from Raul Ibanez.
"I felt a little nervous," Hernandez said. "I know I pitched well, but I can't be happy because the team lost."
Hernandez obviously had the jitters early on, walking Carlos Guillen and Chris Shelton and giving up two singles in the first inning. Polanco singled and scored on Ordonez's single.
Hernandez settled down after a visit to the mound from his teammates and pitching coach Bryan Price. The right-hander retired his next five batters before ending the day with four strikeouts.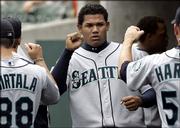 "Not too shabby," Trammell said. "Getting out of that first inning was huge for him, because you could see he was nervous, but he got that big double-play ball, and then he settled in."
Seattle manager Mike Hargrove said before the game that Hernandez would throw about 80-85 pitches in an effort to make it feel like any other game. Hernandez ended up throwing 81 pitches, 49 for strikes.
"A pretty impressive debut, rough luck there in the first inning, but he threw the ball well. He got better as he went along," Hargrove said. "We'll increase his pitch count the next outing."
Hernandez became the youngest major-league starter since Jose Rijo pitched for the New York Yankees in 1984. Hernandez dominated the Pacific Coast League while pitching at Triple-A Tacoma, going 9-4 with a 2.25 earned-run average.
Orioles 4, Angels 1
Anaheim, Calif. - Sammy Sosa picked up a listless Baltimore club still stunned by the sudden firing of manager Lee Mazzilli, hitting a two-run homer as the Orioles beat Los Angeles and snapped a season-worst eight-game losing streak.
Sam Perlozzo won his first game after being promoted from bench coach to interim manager.
Rodrigo Lopez (10-6) threw 94 pitches in five innings, allowing a run and two hits while striking out five and walking two. The right-hander was working on three days' rest after yielding eight runs in 11â3 innings Sunday at Camden Yards against the White Sox.
Rookie Ervin Santana (6-5) allowed four runs - two earned - and four hits over seven innings while tying his career high with seven strikeouts.
Athletics 5, Twins 2
Minneapolis - Eric Chavez's single drove in the go-ahead run in the eighth inning to help Barry Zito win his eighth straight start, and Oakland won for the 34th time in its last 42 games.
Zito (11-8) pitched eight solid innings, allowing just four hits while striking out eight. He hasn't lost since June 17 against Philadelphia.
Huston Street pitched the ninth for his 12th save of the season. Jesse Crain (9-2) took the loss.
White Sox 5, Blue Jays 4
Chicago - Tadahito Iguchi hit a tiebreaking homer in the eighth inning, and Chicago avoided a three-game sweep by beating Toronto.
Dustin Hermanson worked the ninth for his 26th save in 27 opportunities.
Yankees 4, Indians 3
Cleveland - Alex Rodriguez and Jason Giambi homered off Bob Wickman in the ninth inning, and New York avoided being swept in Cleveland for the first time since 1970.
The homers saved the Yankees from dropping further back in the AL East and wild-card standings.
Giambi also connected in the fifth for New York, which stayed 41â2 games behind division-leading Boston.
Rangers 13, Devil Rays 5
Arlington, Texas - Alfonso Soriano had three hits and a career-high five RBIs, and Texas ended Tampa Bay's season-high six-game winning streak.
Hank Blalock hit a two-run homer, and Phil Nevin added a solo shot in a decisive three-run seventh inning for the Rangers.
Copyright 2018 The Associated Press. All rights reserved. This material may not be published, broadcast, rewritten or redistributed. We strive to uphold our values for every story published.