New York — J.K. Rowling, Bob Dylan and Stephen King are among the nominees for the first annual Quills Awards, a glitzy literary affair for which the general public will cast the ballots.
Organized by Reed Business Information, which publishes Variety, Library Journal and Publishers Weekly, and NBC television, the Quills Awards consist of 19 categories, from sports to debut fiction, with five finalists for each.
Winners will be announced at an Oct. 11 ceremony hosted by NBC anchor Brian Williams, to be aired Oct. 22.
"This is the first consumer-driven awards program that acknowledges the power and importance of the written word and celebrates literacy," Jay Ireland, president of NBC Universal Television Stations, said Thursday in a statement.
From Aug. 15 to Sept. 15, the public can vote online at www.quillsvote.com. The prize will be promoted at bookstores and on NBC Universal stations.
Some of the proceeds from the ceremony, for which admission will range from $1,000 for a single ticket to $25,000 for a sponsorship table, will be donated to the Quills Literacy Foundation, launched earlier this year with funding from Reed.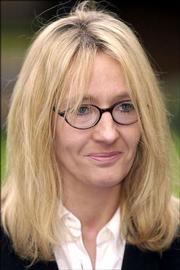 The Quills themselves carry no cash prize, although the publishing industry hopes attention given to the awards will help increase sales.
The nominees range from Rowling's multimillion selling "Harry Potter and the Half-Blood Prince," a finalist for best children's narrative for middle graders, to a new translation of the ancient epic "Gilgamesh," nominated in poetry. Voters can choose a "book of the year" by selecting a finalist from any category.
Dylan was cited for biography/memoir for "Chronicles, Volume One," while King and Stewart O'Nan were nominated for best sports book for "Faithful," a chronicle of the Boston Red Sox in 2004, when the baseball team broke a decades-long jinx and won the World Series.
Philip Roth's "The Plot Against America" is among the fiction nominees, which also include Marilynne Robinson and her Pulitzer Prize-winning "Gilead." David McCullough is a history/current events/politics finalist for "1776."
Copyright 2018 The Associated Press. All rights reserved. This material may not be published, broadcast, rewritten or redistributed. We strive to uphold our values for every story published.