The first time Ellen Young participated in Red Dog Days, her husband and daughter watched from the bleachers in case she had a heart attack.
Young, 52, has since shaved 35 pounds off her 5-foot-2-inch frame and is contemplating running a marathon.
"I personally think (Don "Red Dog" Gardner) is a huge asset to the whole community," she said.
Young was among the throng that gathered at Kansas University's Memorial Stadium this week to listen to Red Dog, a retired Lawrence police officer, broadcast his exercise commands through a megaphone. The crowd jogged around the track, climbed to the top of the bleachers and did sit-ups and stretches in unison.
Hundreds of people of all ages participate in the city's popular conditioning program, which has been running strong for 22 years. And there are hundreds of testimonials to its benefits.
"If you give Red Dog six weeks, you'll owe him the rest of your life," said Blake Hedges, a participant who uses Red Dog Days to bounce back from a torn ligament in his knee.
Photo Gallery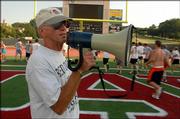 Red Dog Days
Participants will lose weight, look and feel better, sleep better and reduce stress, said Kevin Stuever, a physician who participates in and recommends the program to his patients.
It's difficult to summarize how the regimen affects people because participants take the program at their own pace, he said.
Some may run. Some walk. Some may do a few sit-ups. Others might do more than they're told.
But that's one reason why the program is so popular.
"There's no pressure," Stuever said. "That's the nice thing about it."
It's less intimidating than the gym, he said, and that attracts people who haven't exercised in a long time or who need to shape up.
Young was once 65 pounds overweight. She had high blood pressure. She didn't always eat healthy foods. It took her three years to take off the first 30 pounds. Then she tried Red Dog Days.
She started the program because her daughter was a participant. The first workouts were difficult. She couldn't run the full amount. She was scared of "Red Dog" Gardner. When she finished a session, she'd slink away and go home quickly.
"At first, I can't really say that I liked it," she said. "But I did it for my health."
Within a year of the program, she lost the second chunk of 35 pounds. She's kept it off.
She comes for the workout, but she's also there to socialize. Young jogs with her friends Stacy Riggins and Joanie Starks. They talk the whole time as they work out.
If one woman misses a session, they'll call to check on her.
Young was never good at sports that required a lot of coordination, she said. She's tried golf and bowling and hasn't had much success. But she can handle the Red Dog workout.
"It doesn't take much to put one foot in front of the other and move forward," she said.
The program is motivating, said Brenda Kappelman, a participant.
"We all want Red Dog's figure too, right?"
Red Dog Days
What to wear: Whatever you want Cost: Free Check in: Give your name at the entrance Schedule: ¢ Summer program runs through Aug. 11. Sessions at 6 a.m., noon and 6 p.m. Monday through Thursday at Kansas University's Memorial Stadium. Saturday sessions at 7 a.m. and 8 a.m. at the Lied Center through Saturday. ¢ Fall session runs Aug. 25 through Thanksgiving. Sessions at 6 a.m. and 6 p.m. on Tuesdays and Thursdays in the stadium. Saturday sessions at 7 a.m. at the Lied Center for a while, then they will move downtown with runners meeting at Kizer-Cummings Jewelers, 833 Mass. ¢ Winter session runs from Thanksgiving into May. Sessions at 6 a.m. on Tuesdays and Thursdays. Evening sessions have not yet been set.
Copyright 2018 The Lawrence Journal-World. All rights reserved. This material may not be published, broadcast, rewritten or redistributed. We strive to uphold our values for every story published.