RIVER FALLS, WIS. — The young linebacker, with hopes of becoming a team leader, watched intently as safety Sammy Knight quickly closed on the tight end and knocked a pass away with exquisite timing.
"I'd like to be like Sammy Knight," said an admiring Kawika Mitchell.
A nine-year veteran who signed as an unrestricted free agent this year, Knight is drawing rave reviews from his new Kansas City teammates for both his physical abilities and skills as a leader - qualities that have been sorely lacking on the Chiefs' defense for several years.
"I'd definitely say Sammy Knight," defensive coordinator Gunther Cunningham said, asked to identify his leaders.
For many players and coaches, however, Patrick Surtain has been even more impressive during the first week in the Chiefs camp.
One of the NFL's elite cornerbacks the past few years, Surtain answered Kansas City's frantic call for a "cover corner" in the spring, when he was traded from Miami, where he had played for two years with Knight and helped form one of the league's top defenses.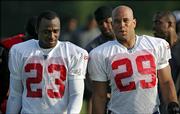 "Patrick Surtain is truth," said Dante Hall, ace kick returner and veteran wide receiver. "This defense is a lot smarter, especially with Patrick. It's really exciting."
Everyone connected with the Chiefs seems excited about the way the new - and hopefully improved - defense is taking shape. There could be more than five new starters and a completely new look for an outfit that has rested near the bottom of the NFL for several years and scuttled all the benefits of a top offense.
Key to the new defense could be the Knight/Surtain secondary combo. There is no doubt their help was desperately needed.
During the past three years, the highest the Chiefs have ranked in overall defense among the 32 teams in the NFL is 29th. While the offense led the league in total yards last season, the defense was next-to-last.
But their pass defense was even worse - dead last.
Knight and Surtain hope to change that.
"I've just always been the type of guy that goes after it," Knight said. "I don't know if I'm a leader who's going to talk it all up. I try to lead by example. If leading is helping people out when they need help, that's fine. I need help, too. We're all leaders out there. Everybody's helping each other."
Ever since two-a-days began last week, Surtain has looked every bit like the interception specialist he was known to be in Miami.
The two-time Pro Bowler has the league's third-highest interception total since 2000. In the past five seasons, he has made 25 picks.
"He's real. He's awfully good," head coach Dick Vermeil said. "He gets about a takeaway a day. He's been very impressive with a tremendous work ethic. I look up at special teams as we're working on kickoff returns, and there's Patrick Surtain covering the kickoffs.
"We brought him here because he's a fine player and a fine young man. He's got some leadership skills that will permeate how this defense plays."
The only position group on the defense that does not have a high-profile newcomer is the line. But the improvement in the secondary is giving the big boys a boost, too.
"Those guys are playing great coverage behind us, which helps, which is a big change from the last couple of years," defensive end Eric Hicks said. "Those guys seem to be picking it up well."
While the Chiefs have an offense that ranks among the most powerful in the NFL, the wish among most Kansas City fans since 2002 has been for a defense that's at least average.
It's a hope that brings a scowl to the anchors of the new secondary.
"When I hear that it makes me sick to my stomach. It really does," said Knight. "These guys are out here busting their tails every day. We expect to be the top defense in the league. That's what we shoot for. Just like the offense expects to be the top offense, we expect to be the top defense.
"Anything else is uncivilized."
Copyright 2018 The Associated Press. All rights reserved. This material may not be published, broadcast, rewritten or redistributed. We strive to uphold our values for every story published.