Modern celebrity is like a colossal compost heap, swallowing amiable but forgettable sidekicks and drug-addled ego cases alike.
They seem to disappear into obscurity, but that's just an illusion. They're like those stubborn dandelions that squeeze through pavement cracks no matter how much Weed-B-Gon you aim at them.
Sooner or later all celebrities re-emerge - some, like comic Kathy Griffin, with an entirely new face. It's inevitable, given both TV's insatiable appetite for content and viewers' boundless tolerance for whatever is placed before them, including Griffin, who has not only embraced D-listhood but fashioned a lucrative new career from it.
This summer, celebrity recycling has reached a sort of cosmic critical mass. Has-beens are the new gotta-haves. And we're tuning in by the millions.
We're watching Gary Busey and Wendy the Snapple Lady vie to lose weight on "Celebrity Fitness Club," back for a second season on VH1.
We're following Botoxed ex-cover girl Janice Dickinson - survivor of three marriages, several battles with drugs and alcohol, and a stint terrifying the young contestants on UPN's "America's Next Top Model" - move in with a bunch of mismatched roommates, including Pink's motocross-racing fiance Carey Hart, on VH1's "The Surreal Life."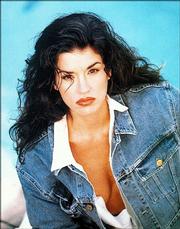 Even the premiere of the much-derided "Being Bobby Brown" on Bravo, starring the addled onetime R&B; star and his wife, the skeletal ruins of Whitney Houston, last month attracted 1.1 million viewers, which is hit territory for the cable channel.
ABC's "Dancing With the Stars" was this summer's breakout hit, and never mind that the "stars" were sub-B-list celebs with two left feet, among them boxer Evander Holyfield, model Rachel Hunter and aging New Kid on the Block Joey McIntyre. Oh, and actor John O'Hurley, whom most people recognize not by his own name but as the mannered J. Peterman on "Seinfeld," which for O'Hurley was seven long, hitless years ago.
The "Dancing" celebs may have been low wattage, but 22.4 million folks tuned in for the finale, when soap star Kelly Monaco, previously unknown to all but loyal fans of "General Hospital," glided somewhat clumsily away with the trophy.
The network is searching for a new crop of hopeful hoofers for season two, to begin sometime later this year.
Cheap recognition
Has-beens are hot because they're "cheap, compared to big current stars, and they provide instant name recognition," said Mary Desjardins, associate professor of film and television studies at Dartmouth College, via e-mail.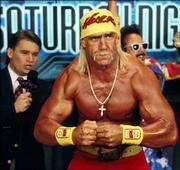 "They bring a presold quality to the project, so that it doesn't need to be tested slowly while audience loyalty builds and new stars develop, as with more traditional productions."
And this is important, Desjardins said, at a time when the entertainment industry is increasingly obsessed with instant hits.
Because reality series are inexpensive to produce, and shorter in cycle than fictional shows (generally six episodes instead of 13), if a show flops, it's no biggie. There's another one waiting in the wings.
Which helps to explain "Hogan Knows Best" on VH1, in which hairy ex-wrestler Hulk Hogan is revealed as just another puzzled patriarch wondering if it's OK to let a 22-year-old college guy take his 16-year-old daughter on her first date. The show's July 10 debut set a network record, drawing 2.7 million viewers.
The aforesaid Griffin, her second-banana-to-Brooke-Shields career revived by playing herself on "The Surreal Life," has a new series, "Life on the D-List," starting Aug. 3 on Bravo.
Holding on to fame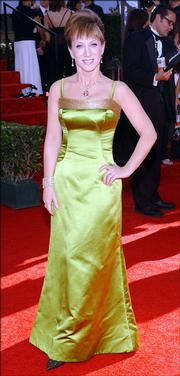 Celebrity recycling is so big that some personalities are being snatched from the compost pile before they've barely registered with the public. July 25 saw the premiere of "Kill Reality" on E!, featuring cast members from "The Survivor," "The Bachelor," "The Amazing Race" and such, attempting to act.
And consider "Apprentice" diva Omarosa Manigault-Stallworth, who has managed to parlay five minutes of Trump-bestowed fame into appearances on 10 shows - among them "Fear Factor," "Girlfriends" and the soap opera "Passions" - plus a Burger King commercial.
She's starring on the fifth season of VH1's "The Surreal Life," in which six members of the washed-up, the burned-out, the coulda-beens and the hope-to-be's set up housekeeping while the cameras roll.
Omarosa is living up to her witchy reputation. Upon meeting surprisingly grabby housemate Bronson Pinchot, best known for playing Balki in the 1980s sitcom hit "Perfect Strangers," she blurted, "Whoa, dude gained lots of weight."
When another housemate, baseball's steroidal ex-slugger Jose Canseco, said he could beat her at something, she accused him of threatening to beat her up.
And she seems destined for a showdown with Dickinson, who nastily observed, "When I first saw Omarosa, I thought it was Rick James."
But weep not for Omarosa. In a summer that has seen the recycling of both Pauly Shore ("Minding the Store" on TBS) and Howie Mandel ("Hidden Howie: The Private Life of a Public Nuisance" debuts next month on Bravo), she's holding her own.
Look for her next month on two Bravo shows.
She'll play cards on "Celebrity Poker Showdown." And she'll provide commentary for something called, so help us, "Battle of the Network Reality Stars."
Copyright 2018 The Lawrence Journal-World. All rights reserved. This material may not be published, broadcast, rewritten or redistributed. We strive to uphold our values for every story published.