A year ago, Don Shepherd was upset with conditions at Brandon Woods Retirement Community.
"It used to be like family out there," said Shepherd, whose 92-year-old mother has been at Brandon Woods since 1999.
"But it got to a point where there was so much turnover, my mom said she didn't know who was going to be there from one day to the next," he said. "The biggest problem was turnover."
In September, Brandon Woods was fined $7,000 after state inspectors confirmed reports that a resident had been in "extreme pain" after going for three weeks without receiving a doctor-ordered therapy.
State officials also imposed a ban on new admissions after the nursing home scored an embarrassing 21 deficiencies on its annual inspection.
Brandon Woods' executive director Shannon Ruedlinger then vowed a return to the days when Brandon Woods was considered one of the state's best nursing homes.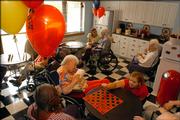 That day has arrived. On Thursday, Kansas Department on Aging officials confirmed that Brandon Woods had passed its annual inspection with "zero deficiencies," the highest score possible.
"We commend their staff and management," said Aging spokeswoman Barb Conant. "This is a major accomplishment. It's not to be taken lightly."
Shepherd couldn't be happier.
"The turnaround has been significant," he said. "There's a lot more care going on out there now. It's not just taking people to dinner and giving them their medicine. It's being attentive and caring about them.
"People out there care now," he said. "The people there before cared too, but they were always harried and short-handed. It's not like that now."
Each year, only about 10 percent of the state's 375 nursing homes achieve a zero-deficiency rating.
"We are very proud of our teams and their accomplishments," Ruedlinger said. "This proves we have a dedicated, caring and compassionate staff that can accomplish anything it's committed to accomplishing."
Brandon Woods, 1501 Inverness Ave., is the largest retirement community in Lawrence, offering independent living, assisted living and nursing home care. It has 250 employees and as of Thursday had 117 residents in its nursing home unit, 35 in assisted living, 90 in independent living apartments and 105 in town homes.
Donna Bell, director of public relations at Brandon Woods, attributed the turnaround to a radical change in the facility's approach to resident care.
"We've really pushed to create a whole different culture here, a culture that's resident-centered. We're all about providing choices for our residents in every aspect of their lives," Bell said. "We're working very hard to deinstitutionalize our environment."
The changes are in keeping with a national push to improve nursing home care by putting resident needs and wishes ahead of assembly line-like routines.
"A good example of that is that in the past, breakfast was served at 8 a.m., so everybody had to get up at the same time whether they wanted to or not," Bell said. "Now, the schedule in much more fluid, breakfast is served from 7:30 to 9 - if you're a late riser, fine, you can still get breakfast."
This change in approach has been endorsed by the Department on Aging.
"It's a lot more person-centered," Conant said. "It's less regimented. It gives residents more autonomy, more control over their surroundings."
Deanne Bacca, executive director at Kansas Advocates for Better Care, welcomes news of Brandon Woods' perfect score.
"It's amazing," she said. "I think it shows that person-centered care really works. I hope there's some serious mentoring being done so that when one or two key people leave, things go back to the way they were.
"As good as this news is, Brandon Woods still has this troubled history hanging over its head," she said. "I hope this isn't a one-year thing."
Last year, Brandon Woods was one of fewer than 50 nursing homes in Kansas that had been cited with at least 10 deficiencies in each of the previous four years.
"Anytime you get into double-digit deficiencies, you have problems," Bacca said.
Brandon Woods scored zero deficiencies in 2000.
Copyright 2017 The Lawrence Journal-World. All rights reserved. This material may not be published, broadcast, rewritten or redistributed. We strive to uphold our values for every story published.