Collectibles used in American homes come from many countries. Crafts from Africa have been especially popular since the 1960s. Many modern European and American artists like Pablo Picasso were influenced by traditional African pieces. Old pieces are in museums and are very expensive, but newer pieces of African art are affordable and are being imported and sold in the United States. Carved wooden statues, canes, fertility symbols, colorful woven textiles in traditional designs, pottery, clothing and beaded pieces like hats, figurines or chairs are available. The most popular pieces in gift stores are masks, figures, textiles and pottery. The Yoruba people of Nigeria, Benin and Togo have a special talent for beadwork. Hats, figures, baskets, belts, masks, aprons, crowns and several types of chairs were entirely covered with beads. The beads were woven into designs showing animals and geometric symbols. Many colors were used. The resulting art shows the talent of the craftsmen. Recently a beaded chief's chair made circa 1960 sold at auction for about $640.
Q: I paid $16 for a 3-1/2-inch cast-iron clothes iron. It's a small model of a sad iron, the kind that was heated on a stovetop. One side of the bottom is embossed "Massengill," and the other side "Saferon." Did I get a good buy?
A: We have seen small sad irons like yours labeled as toys, advertising giveaways or salesman samples. Your particular iron dates from about 1940. It sells for $10 to $50, so you didn't pay too much.
Q: My canteen-shaped ceramic pitcher has a rounded handle on one side and a little top that fits over the spout. The white pitcher is decorated with a decal of red, blue and yellow chrysanthemums. The mark on the bottom is a circle enclosing these words: in the United States of America, Universal Cambridge, O., National Brotherhood of Operative Potteries, Oven Proof." In the middle of the circle there are some symbols, the words "Union Label" and the initials "AF of L." Can you date this pitcher and tell me what it's worth?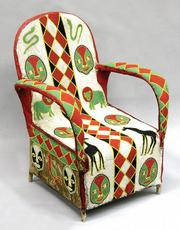 A: Universal Potteries was formed in 1934 in Cambridge, Ohio (about 80 miles east of Columbus). Universal produced high-quality semiporcelain dinnerware, as well as baking dishes and other kitchenware, in hundreds of patterns. Your pitcher is an "oven-proof" canteen jug designed to store cold drinks in the refrigerator. It was made in several patterns. The jug, in another pattern, is pictured in the 1940 Sears catalog. Its price was 85 cents. Or, for $2.79 you could get a nine-piece refrigerator set that included the jug. Your jug probably dates from the 1940s, too, but today it would sell for about $25. The initials "AF of L" in the mark stand for the American Federation of Labor, an association of American unions. The National Brotherhood of Operative Potteries was founded in Ohio in 1890 and became affiliated with the AF of L.
Q: My father bought a framed print of Leonardo da Vinci's "The Last Supper" when he was in the U.S. Navy during World War II. But around all four edges are what look like the full wings of 12 butterflies. Where would something like this come from?
A: Could your father have spent his time in the Navy in South America? For at least the past century, South American craftspeople have used beautiful native butterfly wings to decorate coasters, jewelry and trays. Your framed print might have been sold as a serving tray. Large butterfly-decorated trays sell for about $100.
Q: Several years ago, I bought an unusual vase at an antiques shop near Buffalo, N.Y. The vase is 7 inches tall and curves in and then out at the top. It's a terra-cotta color, but the piece is porcelain with gold-painted trim and two applied porcelain roses. The mark is a crown with the word "Turn" on the bottom above a shield with the initials "EW" and the word "Vienna." Under that is the phrase "Made in Austria." I've tried to research the mark, but have had no luck.
A: The mark was used between about 1903 and 1918 by a factory in Turn-Teplitz, Bohemia (now Trnovany, Czech Republic). The factory was owned by Ernst Wahliss (EW) and his sons, Hans and Erich. In 1902, Wahliss bought hundreds of the original molds of the defunct Imperial and Royal Porcelain Manufactory in Vienna, which is the reason why that city's name is in your mark. Wahliss made many reproductions of the Vienna firm's decorative porcelain. It is likely that your vase is one of those reproductions. It probably dates from before 1910.
Tip
Pearls have gone up in value dramatically. If you own pearls that are more than 10 years old, have them reappraised. Care is important. Don't put them in a box with sharp objects. Don't let them touch perfume or hair spray. Perspiration is bad for them, so wipe the pearls after each wearing. Don't wash too often; water might weaken the string. Never store them in airtight, warm places like safe-deposit boxes or plastic bags. Long periods of airtight storage will ruin pearls' luste
Current prices
Current prices are recorded from antiques shows, flea markets, sales and auctions throughout the United States. Prices vary in different locations because of local economic conditions.
¢ Winchester Fishing Tackle catalog, color, 1924, 32 pages, 5 1/2 x 8 1/2 inches, $110.
¢ Political license-plate attachment, "Win With Willkie & McNary," red, white and blue, 1940, 10 inches, $200.
¢ Rookwood pottery vase, powder-blue ground, yellow stemmed dandelions, c. 1945, 6 1/2 inches, $645.
¢ Bristol glass mantel set, opaline-covered urn, 2 vases with medallion castle scene, polychrome stemmed flowers, c. 1890, $265.
¢ Royal Vienna-style pin tray, romantic scene of couple fishing, c. 1900, marked, 5 3/4 inches, $295.
¢ Universal toaster, flip-over, drop handles, nickel body, c. 1929, 9 inches, $410.
¢ Milkmaid Milk advertising clock, Baird style, embossed metal bezel reads "Milkmaid Milk -- Now's the Time to Buy It," pendulum, 17 1/2 inches, $460.
Copyright 2018 The Lawrence Journal-World. All rights reserved. This material may not be published, broadcast, rewritten or redistributed. We strive to uphold our values for every story published.