Lecompton — Gary Kroeger looks at the state Capitol in Topeka and wonders what might've been.
One-hundred-fifty years ago next week, after all, his tiny town of Lecompton was named the capital of Kansas Territory - a title it would lose just two years later.
"Topeka is flat," said Kroeger, a Lecompton resident and owner of Kroeger's Country Meats & Deli. "Lecompton would be more like a small San Francisco. We've got some nice hills and landscape."
It was Aug. 7, 1855, when the pro-slavery "Bogus" Territorial Legislature made Lecompton the capital of the fledgling territory. After three rounds of voting, Lecompton beat out the other pro-slavery towns of Tecumseh and St. Bernard, which is now a ghost town near Centropolis.
During the same session, legislators also enacted more than 1,000 pages of legislation, including some of the harshest pro-slavery laws in the country. Criticism of slavery in the territory was punishable by "two years at hard labor."
But the population - and political control - of Kansas soon shifted from pro-slavery Democrats to anti-slavery Republicans.
Anti-slavery forces won control of the territorial legislature in 1857. Laws established by the "Bogus" Legislature were overturned, including the laws aimed at slavery. "Free State" leaders selected Topeka as the capital when Kansas became a state in 1861.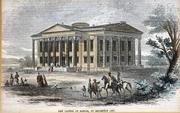 "Everyone just pulled out of Lecompton when it was no longer a capital," said Tim Rues, administrator at the Constitution Hall Historic Site in Lecompton. "It was a traumatic event to lose the title. People literally packed up their bags and walked out of town. Homes and businesses were abandoned."
Construction on what was to be the Capitol came to a halt in 1858 when it became clear that Lecompton would not remain the capital. The building eventually was completed in 1882 - a shell of the original plans - and became the new site for Lane College. The structure now serves as the Territorial Capitol Museum.
Lecompton was recognized by the federal government, but it wasn't alone in the city's claim to be Kansas' capital.
Between 1855 and 1861, Fort Leavenworth, Pawnee, Topeka, Minneola, Lecompton, Lawrence and Shawnee Mission all served as territorial capitals. In that same time period, Rues said, the territory had 10 governors and four constitutions.
The battle between pro- and anti-slavery forces led, for a time, to competing systems of government. The territorial government was in Lecompton, and the free-state government was in Topeka.
"So there were two people claiming to be governor, and two groups claiming to be the legislature," he said.
Abraham Lincoln commented on the turmoil in the territory while campaigning in Kansas in 1859.
"No other territories," he said, "have ever had such a history."
Copyright 2018 The Lawrence Journal-World. All rights reserved. This material may not be published, broadcast, rewritten or redistributed. We strive to uphold our values for every story published.