When you go to a county fair, you expect to see cattle, swine, sheep and poultry.
At the Douglas County Fair you also will find a 40-pound tortoise, camel, porcupine and a few other exotic animals.
The animals belong to the Jerry Aswegan family of Peculiar, Mo. Aswegan, his daughter, Tiffany, 15, and his son, Clint, 20, were watching over the animals Wednesday after temperatures soared up to nearly 100 degrees.
"It doesn't really bother the animals," Aswegan said. "A lot of them are from hot-weather areas anyway, such as the camel."
All of the animals on exhibit at the fair are kept in pens that are covered with a roof but open on the sides. Fans also were running in the animal areas.
Aswegan's animals are in the fair's petting zoo, but for obvious reasons, some animals aren't to be petted. One of them is Spikey, an African crested porcupine. The porcupine is kept in a pen where visitors can see it but are well out of petting distance.
Photo Gallery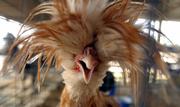 Douglas County Fair 08-03-05
But Spikey usually keeps its quills down unless it gets scared, Tiffany said. But it also can bite, she said.
Also out of reach of visitors are two Japanese snow monkeys.
"A little later tonight they start swinging around and they put on a pretty good show," Aswegan said.
Aswegan has been collecting exotic animals for about 20 years but his farm is not open to the public. During the summer, the family takes some of them to a few fairs and other small town shows. This is the fourth year the Aswegans have been at the Douglas County Fair.
Wednesday also marked the first day that tickets for Friday night's Demolition Derby went on sale. Sales started at noon but the line formed long before then, said Margret Kalb, fair board secretary.
"There were some people here trying to buy them at 10 o'clock," she said.
Some tickets remain to be sold today, but it was unclear late Wednesday how many had been sold and how many were left. The demolition derby is almost always sold out with attendance of about 3,000 people.
Copyright 2018 The Lawrence Journal-World. All rights reserved. This material may not be published, broadcast, rewritten or redistributed. We strive to uphold our values for every story published.