Khartoum, Sudan — Sudan's capital erupted into ethnic and sectarian conflict Tuesday, with bands of northerners and southerners staging attacks on each other in an outpouring of anger sparked by the death of a former rebel leader turned vice president.
Frightened residents carried clubs and bricks for protection, fearful of the deadly reprisal violence between Muslim Arabs and residents from Sudan's south enraged over the death of John Garang, killed Saturday when his helicopter crashed into a southern mountain range in bad weather.
At least 49 people were killed in the violence that started Monday, according to a U.N. official, though the number was not officially confirmed.
Armed gangs, said to be Arabs, broke into homes of southerners in several parts of the capital. Television footage showed southerners' homes torn apart, furniture smashed and doors hanging on hinges.
At the same time, Muslim neighborhoods came under attack by supporters of Garang, who led a two-decade rebellion in Sudan's mostly Christian and animist south before becoming the country's vice president in a peace deal.
A dusk-to-dawn curfew was declared for the second night in a row.
The death of Garang ruptured the long coexistence in Khartoum between northerners and the nearly 2 million southerners who live in squatter neighborhoods in the city and in four massive refugee camps on its outskirts.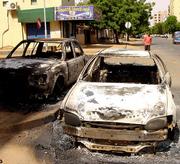 Violence between the communities has been uncommon, even during the 21-year civil war between Garang's rebels and the Khartoum government, which is dominated by Muslim Arabs. The war was fought hundreds of miles to the south and drove thousands of southerners to the capital.
Garang's death came only three weeks after he was named first vice president and joined the government that had long been his enemy, part of a peace deal celebrated throughout the conflict-torn country.
The government and Garang's Sudan People's Liberation Movement insist the crash was an accident and have been trying to bring calm by promising that the peace process and power-sharing deal will continue.
President Omar al-Bashir will travel south to the town of Juba to attend Garang's funeral, set for Saturday, state media reported. His attendance aimed to signal that both sides consider themselves partners. Al-Bashir and Garang had been bitter enemies but had taken to calling each other "brother" since Garang came to Khartoum to take the vice president post.
In the meantime, Garang's body will be taken to key towns in the south to allow supporters to pay their respects before heading to Juba, the planned capital of the south's future autonomous government, created under the peace deal and new constitution.
Copyright 2018 The Associated Press. All rights reserved. This material may not be published, broadcast, rewritten or redistributed. We strive to uphold our values for every story published.