The 13-U Kansas Rebels finished their successful 2005 season with a sixth place finish in the Super Series Baseball National Championship held in Longmont, Colorado, July 9-16.
The Rebels competed with 35 other United States Specialty Sports Association Major, AAA and AA teams.
After going 1-1-1 in pool play the Rebels won four of their last six games during double elimination bracket play. Among the Rebels' tournament highlights, the team lost a close 3-2 decision to the eventual tournament champions and also played the runner-up to an 8-8 tie during pool play.
"We played our best baseball at the end of the season", coach Paul Vander Tuig said. "It was a great couple of weeks for the kids. I think they started to understand that effort on defense would keep you in games against the high-quality opponents we saw from across Kansas, Oklahoma, Texas, and Colorado."
The season as a whole was also a success for the Rebels. After losing their first three games in Gold Glove League play, the boys won the next ten games to place second in the league for the second year in a row. One weekend before the Colorado tournament, the Rebels placed 6th in the USSSA AAA State Tournament, which had been shortened to pool play because of rain.
"All in all, we had a great season," Vander Tuig said.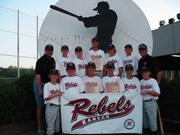 The Rebels finished the season 33-20-2
2005 Team Members: Cody Amerine, Drew Branstrom, Seth Dirks-Ham, Hayden Emerson, Craig Harper, Nick Hassig, Chase McElhaney, Landon Moseley, Drew Noble, Brad Phillips, and Justin Vander Tuig. The team was coached by Paul Vander Tuig and Bob Emerson.
Copyright 2018 The Lawrence Journal-World. All rights reserved. This material may not be published, broadcast, rewritten or redistributed. We strive to uphold our values for every story published.