When Katie Jones bakes bread, she does it with a little color.
At least that's what she did when she made a loaf of yeast bread and entered it for judging in the Douglas County Fair's 4-H food class Monday. Once the loaf was cut open, a purple swirl could be seen on the slices. She called the bread the "K-State swirl."
"I'm a big a K-State fan," the 15-year-old Lawrence girl said, referring to Kansas State University.
Despite being in the heart of Kansas University territory, nobody gave Katie a hard time about one of her baking specialties. Instead, they gave her a red second-place ribbon.
She said she made the bread in commemoration of this year's 100th anniversary of 4-H and in tribute to the Kansas State University Extension Service and its involvement with 4-H.
"It took about 35 minutes to bake and, with preparation, three hours to make," Katie said.
A member of the Clinton Eagles 4-H Club, Katie also entered food items such as a wedding cake, baklava and a coffee cake. They were among more than a thousand food items entered in the fair's 4-H and open class categories.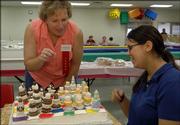 While horses dominated the fair activities over the weekend, food and arts and crafts judging took center stage Monday in Building 21 at the Douglas County 4-H Fairgrounds. The set up of today's 4-H and open-class exhibits will include entomology, flowers, forestry, geology, woodworking and numerous other categories.
Livestock also will be brought in today, and the animals and their owners will deal with afternoon temperatures in the 90s the rest of the week, according to National Weather Service forecasts.
"4-Hers are well prepared for that," said Margaret Kalb, secretary for the fair board of directors. "They know how to keep their animals cool and watered. They are used to it."
Nevertheless, Palmyra 4-H Club member Erin Jansen made a face when she thought about dealing with the heat this week while watching over the sheep she will enter for judging. The animals are more used to the heat than she is, she said.
"There will be a fan, and I can come in here," Erin said, referring to the air-conditioned Building 21, as she described ways she will keep cool.
But Monday, Erin's attention was on her arts and crafts entries. The 12-year-old Baldwin girl said she had spent a week crocheting what she described as a frog purse and making a colorful monkey pillow.
"It's a lot of work but it's also fun," she said.
Daisy Johnson echoed those sentiments. The 9-year-old Lecompton girl and member of the Stull Busy Beavers 4-H Club said she worked about a month making a flower vase and then decorating it with small beads, buttons and other items. She earned a purple, first-place ribbon.
More than 500 arts and craft items were entered in 4-H and open-class categories, and judging them wasn't easy, said one of those judges.
"I look to see if it is well-made and if it is going to fit together in the way it is used," said Connie Miller.
Miller, who grew up in 4-H, said she tries to determine how much help the youth received, though she emphasized some help was appropriate. She also likes to talk to the maker, if possible.
"I consider originality and see if it reflects the child's personality," she said.
Outside on the fairgrounds Monday, rides for this year's Spectacular Attractions Carnival also were being set up. The carnival opens for the first time today at 6 p.m. and continues to 11 p.m. The fair and the carnival continue the rest of this week.
Copyright 2018 The Lawrence Journal-World. All rights reserved. This material may not be published, broadcast, rewritten or redistributed. We strive to uphold our values for every story published.