Khartoum, Sudan — Grief-stricken supporters of a former Sudanese rebel leader tore through the capital in riots that left 36 people dead Monday, smashing cars and shops and angrily blaming the government for their hero's death in a helicopter crash.
Despite doubts among the rioters, the southern rebel movement dismissed talk of a plot against Vice President John Garang and sought to keep alive the fragile north-south peace deal he championed for Sudan.
The 60-year-old Garang, who had been Sudan's first vice president for just three weeks, died Saturday along with 13 other people when their helicopter crashed into a mountain in southern Sudan in bad weather.
"I feel like all my hopes are now broken," said Ashraf Abdel-Hafez, sinking his head into his hands. Three weeks ago, the 26-year-old hotel employee beamed with excitement at the promise he saw in Garang's triumphant return to Khartoum. On Monday, he cried.
His Sudan People's Liberation Movement stressed that the crash was an accident, not foul play, and quickly named Garang's longtime deputy, Salva Kiir Mayardit, to succeed him as head of the movement and as president of south Sudan, spokesman Yasser Arman told The Associated Press.
Kiir will also likely be first vice president, according to the January peace agreement that says whoever is Sudan People's Liberation Movement leader will hold that position, said Kenyan Gen. Lazaro Sumbeiywo, a mediator in the peace talks.
On July 9, Garang was inaugurated into a national unity government that was seen as the key to bringing comprehensive peace to Sudan. He was working with the president and second vice president to form a Cabinet by Aug. 9.
"Losing the brother, the doctor, is a huge loss. He is a true peace partner and he has played a big role," President Omar al-Bashir said.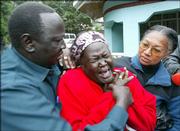 Three days of national mourning have been declared.
President Bush called Garang a "visionary leader and peacemaker" and said the United States remained committed to Sudan's peace process.
Despite the assurances of the rebel movement and the government, hordes of young men filled downtown Khartoum, smashing car windows and tearing off doors, setting fires, looting shops and in some cases chasing pedestrians away with stones.
The government reported that 36 people were killed and approximately 300 were injured in the riots.
Police and soldiers used tear gas to disperse the larger crowds of Garang supporters, and by midday downtown was nearly empty. The streets leading to the Republican Palace were sealed and many residents and shopkeepers closed their shutters and stayed indoors. A 6 p.m. to 6 a.m. curfew was imposed.
Government and rebel leaders appealed for calm, saying the nation's peace process would remain on track.
Jan Pronk, the U.N. secretary-general's special representative in Sudan, mourned Garang but said the peace process would continue.
"The peace agreement is an agreement between two institutions - the government and the SPLM. It is not dependent on individual persons, even if individual persons have had a very important contribution to it," Pronk said. "I'm fully confident that the government and the SPLM will continue on this road."
Copyright 2018 The Associated Press. All rights reserved. This material may not be published, broadcast, rewritten or redistributed. We strive to uphold our values for every story published.