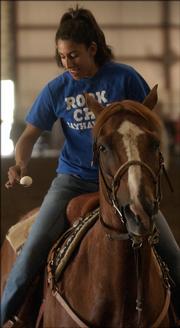 Sunday was a good day for Boss.
The gelding quarter horse and his 13-year-old rider and owner, Kalen Wright, had earned some ribbons and prizes for their efforts in the open horse show at the Douglas County Fair.
Kalen was rewarding her horse with some extra hay between events.
"He does whatever I want him to do," Kalen said.
Kalen was one of more than 70 youth and adult riders who participated in the horse show. About 100 horses were entered in the day-long contests.
Gretchen Brumm, who along with her husband, C.B. Brumm, headed the organization of the show, was pleased not only with the number of riders who participated but also at the crowd turnout. Although people came and went from the free show throughout the day, at one point late in the morning, the Douglas County 4-H Fairground's Community Building's arena grandstands were full. Gretchen Brumm estimated at least 200 people attended.
"It has been a very good turnout," she said. "Everything's gone real well. We had a lot of good volunteers and sponsors."
In addition to the main riding events, some riders also participated in fun events such as balancing eggs on spoons while riding. Drawing special attention was the open class stick horse contest, in which 16 children participated.
Fair events
Here are some events at the Douglas County Fair. For more details, go to www.dgcountyfair.com.
Tuesday ¢ Spectacular Attractions Carnival opens, 6 p.m.-11 p.m. Wednesday ¢ Evening entertainment by Evergreen, 7 p.m.-10:30 p.m., stage area ¢ Draft horse pull, 7 p.m., rodeo arena Thursday ¢ Antique tractor pull, 6 p.m., rodeo arena ¢ Evening entertainment, DJ Mike Edmondson, 7 p.m.-10 p.m., stage area ¢ Douglas County Farm Bureau Movie Night, featuring "Racing Stripes," dusk, north side of the Douglas County Extension Office. Bring lawn chairs and blankets.
"We had 16 tie for first place and they got to keep their stick horses," Gretchen Brumm said with a laugh.
Kailyn Smith decided she will keep riding a gelding quarter horse named Bu, after claiming a first-place blue ribbon and trophy in the barrel races for youths 12 and under.
"This is the first year I've ridden him," the 10-year-old Kailyn said of the horse her sister usually rides.
Bu was fitted with a special bit to help Kailyn control the 1,100-pound horse.
Fair activities continue today with the set up of 4-H and some open class categories in food and food preservation, and arts and crafts in building 21 at the fairgrounds located at 19th and Harper streets.
Copyright 2018 The Lawrence Journal-World. All rights reserved. This material may not be published, broadcast, rewritten or redistributed. We strive to uphold our values for every story published.