DULUTH, GA. — A lavish wedding with 600 guests seemed destined to become a prayer service after police called off the search Friday for a missing bride-to-be, saying they have "turned over probably every leaf in the city."
Jennifer Carol Wilbanks disappeared Tuesday after her fiance said she went on a jog and never came back. Hundreds of police and volunteers spent the week searching the woods of this Atlanta suburb for the nurse.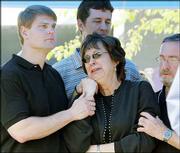 With authorities acknowledging Friday they have no solid leads, relatives offered a $100,000 reward and said wedding guests would likely still gather today at the church, but for a prayer vigil instead.
Attention in the case now has turned to fiance John Mason, a 32-year-old office manager who teaches a Sunday school class and coaches his church's youth basketball team. Mason has refused to take a police polygraph test except under conditions outlined by his attorney, Police Chief Randy Belcher said.
The fiance's lawyer turned in results from a privately administered polygraph, which family members said he passed, but Belcher said police still wanted to talk with him.
The fiance and his lawyer have requested the police polygraph to be videotaped, something Belcher said no law enforcement agency "that's worth anything" would do. Belcher said negotiations about the polygraph would continue.
The hunt for Wilbanks consumed this tight-knit town for days. A friend of Wilbanks', Killie McCauley, said the wedding was "the talk of the town." Fourteen bridesmaids were planning to stand beside Wilbanks as she married Mason.
Copyright 2018 The Associated Press. All rights reserved. This material may not be published, broadcast, rewritten or redistributed. We strive to uphold our values for every story published.