The Rev. Joe Alford is no longer Episcopal chaplain at Kansas University.
His position was eliminated in January by the Episcopal Diocese of Kansas as part of a shift to a different campus ministry model at KU and Kansas State University.
Thus ended Alford's 12-year stint as the Episcopal Church's outreach to KU students.
But don't expect Alford to up and disappear. It's not going to happen.
Alford's going to continue in his longtime role as director of Jubilee Cafe, a well-known breakfast program serving Lawrence's homeless and needy.
He's going to maintain an office at Ecumenical Christian Ministries, 1204 Oread Ave., and plans to continue building bridges between KU students and those in the community who are less fortunate -- in need of food, shelter and compassion.
"This continues to be my ministry. Now I'll be able to give more time to doing reflective work with students, as well as education about the issues of hunger and poverty," Alford says.
To celebrate Alford's years of ministry -- and his 60th birthday -- Ecumenical Christian Ministries will be the host of a gathering in Alford's honor at 6 p.m. today.
Expect to see several KU students at the celebration. Alford's endeared himself to flocks of undergraduates for years, working side by side with his young volunteers at Jubilee Cafe.
And, it's fair to say, the students have endeared themselves to Alford, too.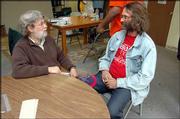 "I've been a priest for 27 years, and this is by far the best job I've ever had, the most enjoyable," Alford says of his time as an Episcopal chaplain.
"Because students are so open -- they don't care about denominational identity. They care about being good, about being true, about being honest. The thing about the Jubilee Cafe is that they come to serve, and they want to do that."
Gift of communication
Good luck trying to find someone who has an unkind word to say about Alford.
It isn't easy.
He's earned many admirers in Lawrence, among KU students who've worked with him, his colleagues in ministry and those in the community who are in need of a good meal, or a place to sleep for the night.
What: Celebration of the Rev. Joe Alford's 12-year ministry as Episcopal chaplain to Kansas UniversityWhen: 6 p.m. todayWhere: Ecumenical Christian Ministries, 1204 Oread Ave.
Dane Norwood, 22, has known Alford since 2001, when the KU sophomore started volunteering at Jubilee Cafe.
He also knew Alford from visits to Canterbury House, 1116 La., where Alford's Episcopal ministry to KU students was based.
"Every time I would see him (at Canterbury House), he would always have a smile on his face. He was always really in control of things, just a good guy, inside and out. You can tell he's got a really good heart, just by the way he deals with people," Norwood says.
He says Alford has the gift of communication, especially with young people.
"I'll get up at like five o'clock in the morning, and Joe's always there. He's dedicated. He even does the jobs that they normally have volunteers do." -- Dane Norwood, 22, Kansas University sophomore from Paris, Texas, and a regular volunteer at Jubilee Cafe"The Jubilee Cafe helps the dispossessed, and it provides them with a source of nourishment twice a week. I go every time I can. Joe's a hell of a guy, too." -- Richard Haggerman, 45, Jubilee Cafe regular"I go there (Jubilee Cafe) every time it's open. It's a great thing for Lawrence to have. It means food, it means nourishment -- something you can count on." -- Don Kinser, 33, Lawrence resident and Jubilee Cafe regular
"He's just real easygoing, he fits in like I'd fit in," Norwood says. "Everybody loves Joe."
Kylie Jo Neal, 20, serves as co-coordinator for Jubilee Cafe through her job at the Center for Community Outreach at KU.
She recruits and helps train students to work at Jubilee Cafe, which provides breakfast to the needy Tuesday and Friday mornings in the fellowship hall of First United Methodist Church, 946 Vt.
Neal's also volunteered at Jubilee Cafe, twice a week for the past two and a half years.
"A lot of students just stay up here on campus and don't know what's going on in Lawrence. But Joe's helped to make a connection there (at the cafe) to bridge that gap and get students out into the community more," she says.
Thoughtful integration
Jubilee Cafe, which Alford co-founded in 1994, is hugely popular among KU students as a volunteer opportunity.
He says about 5,000 students have volunteered at least once at the cafe since the breakfast program began.
Each year, 700 to 800 students volunteer to work at the cafe, where patrons have their orders taken and meals served restaurant style rather than having to stand in line.
The cafe, Alford says, has served about 80,000 meals so far and raised more than $100,000 to keep itself funded.
More than half of that amount has been raised by KU students themselves, he says.
Alford's ministry at KU and Jubilee Cafe have earned him a good reputation among his peers.
"Joe is very well respected by his colleagues nationally. He offers Jubilee Cafe as an example of how campus ministry can be integrated with the wider community. It's not very often that you see that kind of thoughtful integration," says the Rev. Douglas Fenton, staff officer for young adult and higher-education ministry for the Episcopal Church in the United States, based in New York City.
"To get students up at 6 a.m. -- unless they're on a rowing team -- is a miracle. To get them up to cook breakfast for folks in the community who otherwise would not have one, is exceptional."
The Rev. Thad Holcombe, longtime campus pastor at ECM, has known the Episcopal priest since he came to KU in 1992.
"Joe was a campus chaplain who listened, asked the right questions and invited others to do the same," he says.
Copyright 2018 The Lawrence Journal-World. All rights reserved. This material may not be published, broadcast, rewritten or redistributed. We strive to uphold our values for every story published.