Talladega, Ala. — At 41, Joe Nemechek is well aware he is no young up-and-comer.
Racing in NASCAR's top stock car series full-time since 1994, Nemechek has won just four times in 366 starts and has never finished better than 15th in the season points.
But that's no reason Nemechek, who moved into the No. 01 Chevrolet late in the 2003 season, still can't feel like a championship contender.
Last year, his first full season with the ambitious MB2 Motorsports team, Nemechek had a rebirth of sorts, running competitively most of the season, winning a race in Kansas City and finishing 19th in the points. It was his first time in the top 20 since that 15th-place finish with the now-defunct team of Andy Petree in 2000.
Last season's surge raised expectations for both Nemechek and his team. But the 2005 season has gotten off to a so-so start, with Nemechek 24th in the standings and his best showings in the first eight races being a pair of 10th-place finishes.
Still, both those top 10s have come in the last three races, and Nemechek remains optimistic heading into Sunday's Aaron's 499 at Talladega Superspeedway, a track where he has finished as high as third and is a perennial contender. He drove to seventh place in October after starting from the pole here for the third time since October 1999.
"All we wanted to do is be consistent, get a top 10," Nemechek said Friday before practice began on the 2.66-mile oval. "If we can do that every weekend, we're going to be a threat for the championship."
So, what has been the problem so far this season?
"You just look back at what coulda, shoulda, woulda," Nemechek said. "Heck, we'd be easy top 10 in the points. But the team has done their job as far as building good, quality race cars, and I've been able to keep them in front. We've had bad luck with parts and pieces, and we just haven't finished."
Nemechek pointed out he started the season strong, finishing 13th in the Daytona 500, then leading 63 laps at California Speedway the next week before an engine failure relegated him to a 39th-place finish. A punctured radiator at Atlanta and a crash at Bristol also slowed his progress before he turned things around with those 10th-place finishes at Martinsville and Phoenix sandwiched around a 17th at Texas.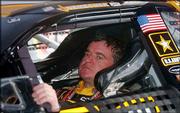 Nemechek has been around long enough that he knows how to deal with the up-and-down nature of racing.
"Having those years of experience is what makes me the kind of race driver I am," he said. "I feel it makes me smarter. I know what I want in my race car. I know what I want the thing to drive like, and I know we do some crazy things with aerodynamics, and I know we make the cars drive bad now.
"But I still know what kind of feel I need in that car in order to put it in a position to win the race. And it just comes with experience."
And running into misfortune on the race track doesn't keep him down for long.
"There are a lot of guys that don't take care of their equipment and can't finish," Nemechek said. "But I've always been a pretty smart driver, trying to stay out of the accidents, trying not to abuse the engine, the transmission, the rear-end gear. Abusing all that stuff is making sure you can't finish."
Another reason for Nemechek's optimism is his relationship with crew chief Ryan Pemberton.
"He's young, he's energetic," Nemechek said. "Ryan is very upbeat, and that does keep the team pumped up. Just watching him makes me laugh, and you've got to put a smile on your face."
Pemberton is just as enamored of working with Nemechek.
"We know each other pretty well at this point," Pemberton said. "Both of us have been down some and we're looking to prove a little something. I think we've come to the point where we have the ability to run up front all the time. Now we just have to go out and show everybody we can do it."
Put it all together and Nemechek, who will be among the favorites Sunday, is feeling good about his chances this year.
"It seems like some drivers have more bad luck than others," he said. "In my case, just like this year. I still think that this year can be my best year in Cup racing."
Copyright 2018 The Associated Press. All rights reserved. This material may not be published, broadcast, rewritten or redistributed. We strive to uphold our values for every story published.