Donna Jackson has the date etched permanently in her memory: on May 7, 1982, she finally got a divorce from the husband who had abused her for years.
"I made a vow to God," Jackson said, "that if I ever got out of it, I wouldn't turn my back on the opportunity to help others and tell my story."
That vow led Jackson to Buford M. Watson Jr. Park on Friday for the "Womyn Take Back the Night" rally and march, an annual event in Lawrence for more than 15 years that is held to raise awareness about sexual violence and domestic abuse.
Before a crowd of nearly 60 people who had gathered at the Watson Park gazebo Friday evening, Jackson discussed some of the physical and mental abuse she had suffered at the hand of her husband, and how the memories of that abuse had yet to fade.
"It's amazing how the years pass and you still have the nightmares," she said. "After 15 years, I started having flashbacks."
Jackson was one of several speakers and performers who addressed the crowd. Some recited poetry about female empowerment. Others gave musical performances.
Jessica Cook, one of the event organizers, said the "Take Back the Night" rally was a way for assault survivors and concerned citizens to help raise awareness about the issues of sexual and domestic violence.
"The main premise is stopping violence against women -- but really violence against everybody," Cook said. "Women just happen to be the victims more often."
Cook noted that the events for this particular iteration of the rally were organized in part to protest the recently certified constitutional ban on same-sex marriage in Kansas, which she said would hamper the cause of people in either same-sex or heterosexual relationships seeking abuse treatment.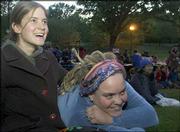 "We want to acknowledge that (the amendment) will make everybody's situation more dangerous," Cook said. "Any type of violence will be affected by this because it is changing how we see people as citizens legally. If a woman wants to go get a protection from abuse order, it may be more difficult for her to now if she's not actually married to the person."
By 9:30 p.m., the crowd at Watson Park had grown to nearly 100 people, and the group began to march down Massachusetts Street toward South Park carrying signs reading "End Rape" and chanting, "Women unite, take back the night."
Though the event was for women only until 2003, several men have attended the most recent marches. Nearly a dozen men participated in this year's event, including Jay Kimmel, a Kansas University sophomore.
"Oftentimes people think that feminism is something just women can take part in, that it is anti-man," Kimmel said. "I really feel that everyone has a stake in a having a harmonious, nonviolent community."
Copyright 2018 The Lawrence Journal-World. All rights reserved. This material may not be published, broadcast, rewritten or redistributed. We strive to uphold our values for every story published.