Philadelphia — Allen Iverson was trying to stay with his man on defense when he slammed full-force into Rasheed Wallace and went sprawling to the floor.
Picking himself up and shaking off the aftershocks, Iverson came downcourt on Philadelphia's next possession and used a quick dribble and deft stutter-step to drive the lane and draw two defenders, leaving Andre Iguodala open at the three-point line.
Iverson flicked him a pass, and Iguodala's shot went in, giving Iverson another of his 15 assists and putting the Sixers ahead by double digits midway through the fourth quarter of a 115-104 victory over the Detroit Pistons on Friday night.
"A.I. was phenomenal," said Pistons coach Larry Brown, who was apprehensive beforehand at the prospect of Iverson having a breakout game.
Turns out he had good reason to worry.
Iverson played one of the best playoff games of his nine-year career, scoring 37 points and handing out five of his 15 assists in the fourth quarter as the Sixers defeated the defending champions for the first time in their best-of-seven series, cutting Detroit's lead to 2-1. Game 4 is Sunday.
Iverson led the way as Philadelphia overcame an early 13-point deficit and then played its best ball in the fourth quarter.
Detroit center Ben Wallace scored a career-high 29 points and grabbed 16 rebounds, but the Pistons got only two points from their reserves on a night when they had another 50-percent shooting effort from the field -- the third time in the series they've made at least half their shots.
Despite that accuracy, the Pistons couldn't find a way to stop Iverson after holding him to 35-percent shooting in the first two games. He finished 15-for-26 from the field, including 2-for-4 from three-point range, and his assists were one shy of his career-best.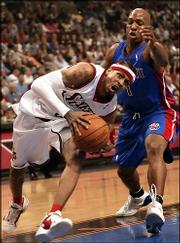 "The same shots he took in Detroit and missed were the same shots he made tonight," Detroit's Richard Hamilton said. "Every game Allen comes out he plays with that demeanor. Since I've been in the league I've never played against him when he's said, 'I'm just going to show up.'"
Chauncey Billups started as the primary defender on Iverson, and Hamilton took over the job later in the game. But even when the Pistons managed to get the ball out of Iverson's hands, he was able to find open teammates who were able to knock down shots.
Chris Webber scored nine of his 19 points in the fourth quarter, Rodney Rogers added 15 points, Samuel Dalembert had 14 points and 10 rebounds, and Iguodala had 13 points and seven steals for Philadelphia, which shot 55 percent.
Before the game, Brown said his inside knowledge of Iverson's tendencies from their many seasons together was of no benefit.
"From a personal standpoint, when you know what someone like that is capable of, it's not a comfortable feeling," Brown said. "We all know what he does, and I haven't seen anybody stop him. The reason we've been successful is we've stopped other people."
Iverson's 15th assist came on a pass to Webber for a jumper that gave Philadelphia a 105-96 lead with 3:04 left, and Iverson sank a three-pointer with 1:33 remaining to lock up the victory.
The game was Brown's first postseason appearance in the building where he coached Iverson for six seasons and took the Sixers to the NBA Finals in 2001.
Copyright 2018 The Associated Press. All rights reserved. This material may not be published, broadcast, rewritten or redistributed. We strive to uphold our values for every story published.