Motegi, Japan — Sam Hornish Jr. won the pole position Friday for the Indy Japan 300 and will be joined on the front row for today's race by rookie Danica Patrick, the only female driver competing in the Indy Racing League this season.
Driving a Honda-powered Panoz, Patrick raced a lap of 204.504 mph on the 1.5-mile Honda-built oval. The 23-year-old driver would have earned her first pole if not for a late charge by Hornish, who beat her with a speed of 204.740 mph.
Today's 200-lap race is the fourth on the 17-event IndyCar Series.
It was Patrick's best qualifying effort of her brief IndyCar Series career. Her previous best start was ninth at Homestead-Miami Speedway in March.
"I was so mad when we lost the pole," Patrick said. "We were so close. I still have a lot to learn and just need to make sure tomorrow that I get in and out of the pits quickly and feel comfortable with the cars around me."
Patrick is the first woman to qualify on a front row in an IndyCar event since Sarah Fisher at Richmond International Speedway in 2003.
Hornish, 20th of 23 drivers to make a qualifying attempt, earned his first pole start since 2003 driving his Toyota-powered Dallara.
"The cloud cover came by and the temperatures cooled down and that helped us," Hornish said. "Our guys and Toyota have worked hard over the past year, and we feel like we've overcome a big deficit."
Hornish earned his fourth career pole position, and first with Marlboro Team Penske. His previous best qualifying effort this season was sixth at Phoenix, where he won.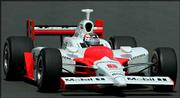 Scott Sharp, who won here in 2003, was third and will be in the second row with Brazil's Helio Castroneves, who had the fastest time in Thursday's practice session.
Defending champion Dan Wheldon of England was sixth and will be in the third row with South Africa's Thomas Sheckter.
Czech driver Thomas Enge hit the wall at the fourth turn. Enge was flown to a hospital for examination and will be evaluated again in the morning.
Copyright 2017 The Associated Press. All rights reserved. This material may not be published, broadcast, rewritten or redistributed. We strive to uphold our values for every story published.