New York — The New York Yankees hardly had a chance against Roy Halladay. In fact, they haven't mustered much offense lately no matter who's pitching.
Halladay threw a three-hitter with nine strikeouts, and Eric Hinske's two-run homer off Randy Johnson sent the Toronto Blue Jays to a 2-0 victory over the punchless Yankees on Friday night.
"For me, it's a challenge going against a team like this and an opposing pitcher like that. I look forward to it," Halladay said. "It was a special game for us."
The Blue Jays won their fourth straight following a five-game skid and sent New York (9-14) to its third consecutive loss.
The Yankees have managed just two runs since Tuesday and are five games under .500 for only the second time in manager Joe Torre's tenure -- they were 5-10 after losing to Milwaukee on April 17, 1997.
"Halladay was outstanding. I don't care how we've been swinging the bats. He was better than us today," Derek Jeter said. "He's nasty, that's just the bottom line. He's as good as they come."
With six Cy Young Awards between them, five for Johnson, the marquee matchup lived up to its billing.
Using a sharp curveball, Halladay (4-1) walked one in his seventh career shutout and 17th complete game, second this season. Johnson (2-2) allowed seven hits in his 93rd complete game, first this year. He struck out nine and walked three in a game that lasted just 2 hours, 8 minutes.
"That was a classic pitching duel," Torre said. "We're not hitting, but you can't diminish what that kid did tonight. He was dynamite. He was in complete control of the game."
Gregg Zaun drew a one-out walk from Johnson in the seventh inning, and Hinske -- the lone left-handed hitter in Toronto's lineup -- pulled an 0-2 pitch over the right-field fence for the only runs.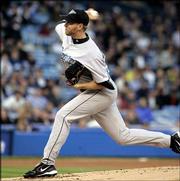 "Obviously, that one mistake cost us the ballgame," Johnson said.
Twins 7, Angels 4
Minneapolis -- Michael Cuddyer had two doubles and three RBIs, and Carlos Silva survived a rough first three innings to lead Minnesota over Los Angeles.
After falling behind 4-1 early, the Twins rallied for their fourth straight win. Lew Ford singled home the tying run in the sixth before Cuddyer's RBI double gave the Twins a 5-4 lead. Cuddyer's two-run double in the eighth completed the scoring.
Ford had two hits and two RBIs for Minnesota, which came from behind to win for the 11th time in its 14 victories this season.
Chone Figgins was 3-for-4 with an RBI and a run scored for the Angels, who took two of three from the Yankees this week in New York.
Silva (2-0) gave up four runs and 11 hits in seven innings but was able to get out of a couple of jams to win his sixth straight decision.
Orioles 5, Devil Rays 0
Baltimore -- Erik Bedard pitched five-hit ball for eighth innings to lead Baltimore to its season-high sixth straight victory.
Devil Rays manager Lou Piniella watched from the press box at Camden Yards as he began serving a three-game suspension for his team's involvement in two bench-clearing scuffles in a game against Boston on April 24.
Miguel Tejada, Jay Gibbons and Javy Lopez homered as Baltimore dealt the Devil Rays their season-worst fifth consecutive loss. Tampa Bay is 1-8 on the road.
Bedard (2-1) retired 14 of the first 15 batters he faced, allowing only a two-out single to Nick Green in the third. He walked none for the first time in 31 career starts and struck out seven overall.
Jorge Julio gave up a hit in the ninth, but finished the Orioles' second shutout of the season.
Rangers 7, Red Sox 2
Arlington, Texas -- Chan Ho Park limited Boston to just three hits over seven innings, and Alfonso Soriano hit a tiebreaking two-run homer in Texas' victory over the Red Sox.
Park (3-1) had a season-high seven strikeouts. Except for a rough fourth inning, the right-hander had little trouble against the World Series champions, who lost their third straight game.
Tim Wakefield (2-1) retired 12 in a row until David Dellucci led off the decisive sixth with a single. Dellucci scored on Hank Blalock's single to tie the game at 2, and Soriano followed with his fifth homer.
Blalock, 5-for-37 his previous nine games, also had an RBI double.
Mariners 4, Athletics 2
Oakland, Calif. -- Ichiro Suzuki had three hits with a triple and two RBIs in his AL-leading 13th multihit game, and Seattle beat Oakland for its third win in four games.
Bret Boone led off the eighth with a solo home run off Ricardo Rincon for his 999th career RBI, and Aaron Sele (2-2) outdueled Dan Haren to end a two-start losing streak, calmly working out of trouble in six strong innings for one of his best starts since rejoining his former team.
Jamie Moyer will put his 4-0 record on the line today for the Mariners, who are looking good during a difficult stretch in which they play 12 of 15 games on the road until May 11.
Tigers 3, White Sox 2, 11 innings
Chicago -- Nook Logan tripled in the go-ahead run in the 11th inning, and Detroit beat Chicago for its fifth straight victory.
Carlos Pena led off the 11th against Shingo Takatsu (0-1) with a walk and moved to second on a sacrifice before Logan drove a pitch into the alley in right center to make it 3-2. Jamie Walker (1-0) gained the win with a scoreless 10th, and Franklyn German pitched the 11th for his first save.
Copyright 2018 The Associated Press. All rights reserved. This material may not be published, broadcast, rewritten or redistributed. We strive to uphold our values for every story published.