Baghdad, Iraq — Iraq's day-old government was hit Friday by a wave of deadly attacks against its security forces and the angry withdrawal of several Sunni Arab politicians whom it had hoped to bring into leadership posts.
The one-two punch underscored the violence and sectarian strife inherited by Prime Minister Ibrahim al-Jaafari and his Shiite-dominated Cabinet, which was approved Thursday after three months of deadlock.
The bloodshed and discord also revealed the weaknesses of the new administration, including the inability of Iraqi forces to stop insurgent attacks and the political failure to include the Sunni Arab minority in governing the war-ravaged nation.
The group of prominent Sunni political leaders from the National Dialogue Council withdrew from negotiations and said they wouldn't enter the government after a series of raids and the arrests of three prominent Sunni religious leaders overnight.
"From the first day, they want to show their muscles," said Mishaan al-Jubouri, a Sunni assembly member and part of the National Dialogue Council, complaining about the raids. "This is a very dangerous message by the new government ... which may lead to civil war in the future. I'll not feel safe about myself and my people under such a government."
A series of at least 12 suicide bombings and mortar attacks killed three U.S. servicemen and more than 40 others, and injured more than 100 at Iraqi police and military sites in Baghdad and other cities, authorities said.
Several Iraqi civilians were among the dead, including a woman who was found slumped over her baby. The infant was believed to be the sole survivor on a minibus that was caught in one of four bombings in the central Baghdad neighborhood of Azamiyah on Friday, the holy day for Muslims.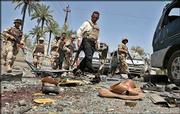 The horror of such violence in their neighborhoods has eroded many Iraqis' faith in the leaders they risked their lives to elect.
"We don't care about any government," said Mansour Ibrahim, 34, a car salesman who witnessed the attack. "They will work on their parties' interests. And the Iraqi people are the victims."
On Friday:¢ Italy and the United States said they had failed to agree on whether U.S. soldiers were at fault in the death of an Italian intelligence agent in Iraq -- an acknowledgment that will further irritate relations and increase pressure on Italy to withdraw its forces from Iraq.¢ A man claiming to be terrorist leader Abu Musab al-Zarqawi, speaking on an audiotape posted on the Internet, directly addressed President Bush. "You, Bush, we will not rest until we avenge our dignity," the voice said. A U.S. intelligence official said the tape appeared to be genuine.¢ Top officials from countries neighboring Iraq met in Turkey to welcome the formation of a government in Baghdad, hoping to give the emerging democratic process a boost despite fears of instability.
Copyright 2018 The Lawrence Journal-World. All rights reserved. This material may not be published, broadcast, rewritten or redistributed. We strive to uphold our values for every story published.