Traffic circles, frequently derided by motorists as being perplexing to navigate, now are creating confusion in City Hall.
The Lawrence Police Department and the city's traffic engineering division disagree on how drivers should be allowed to make left-hand turns at these smaller roundabouts.
Police say the city's traffic code requires motorists to go to the right of the center island and "make the loop" before turning left. The traffic engineering division maintains motorists should be allowed to turn left in front of the center island without making the loop.
"A large vehicle cannot go around them," said David Woosley, the city's traffic engineer. "There is no other way they can make that turn."
The issue may land in the laps of city commissioners. Sgt. Dan Ward, a Lawrence Police Department spokesman, said the traffic code would allow for the loopless left-hand turns, if city commissioners agree to put up signs at each traffic circle saying that the turning motion is allowed.
That idea doesn't excite City Commissioner Mike Amyx, who said such a turn seems risky to him because it requires drivers to enter into someone else's driving lane.
"That scares me because I think you have created another potential conflict," Amyx said. "I think you have a big safety issue to deal with here."
A pair of particular traffic circles in the University Place Neighborhood -- at 17th and Indiana streets and 17th and Illinois streets -- have helped bring the issue to the forefront. Ward said the police department sent officers to the area recently and began warning motorists who were making the loopless turns.
"We had received several complaints from citizens that drivers weren't doing it right," Ward said.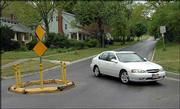 Caleb Morse, a resident of University Place Neighborhood, said residents frequently make the quicker turn when no one else is approaching.
"Obviously you are exerting more effort by going all the way around it," Morse said. "And to some extent, I think when these traffic calming circles were proposed by the neighborhoods it was done with the understanding that this type of turn was going to be legal."
Morse said that if that is not the case the traffic circles may become "more than some people want to put up with."
Ward said the police department is not taking an official position on whether the loopless turns are safe to make and should be allowed.
"We don't make the laws, we just enforce them," Ward said.
Mark Bradford, deputy chief with Lawrence Fire & Medical, said Woosley is correct that his department's vehicles can't go around the circles. Bradford said the department would continue to make the loopless turns when responding to emergency calls but would take longer routes to avoid the circles on nonemergency calls if the city deems the loopless turns illegal.
Woosley said without the loopless turns other vehicles ranging from UPS trucks to long wheel-based pickup trucks would be unable to turn left at some of the city's approximately one dozen traffic circles.
"If we don't allow this, we do have a problem," Woosley said.
Members of the city's legal staff currently are reviewing what the city code says about turning at traffic circles. If a change is needed, it would be referred to the city's Traffic Safety Commission, which would make a recommendation to city commissioners.
Morse, a Traffic Safety Commission member, said he hoped the issued didn't lead to a suggestion that the traffic circles be removed.
"I think the general consensus is that that they (traffic circles) are doing exactly what they are supposed to, which is slow the traffic down substantially," Morse said.
Amyx stopped short of saying he would advocate for the removal of the circles, but said he wasn't a particular fan of the devices.
"I don't know how any vehicle actually makes a turn in them," Amyx said.
Copyright 2018 The Lawrence Journal-World. All rights reserved. This material may not be published, broadcast, rewritten or redistributed. We strive to uphold our values for every story published.