Santa Monica, Calif. — Anjelica Huston, with her long-legged stride and long, dark hair swinging free, is as much an eye-catcher walking through a hotel lobby as she is on screen.
But viewers aren't treated to even a glimpse of the actress in the CBS movie "Riding the Bus with My Sister." For the third time, Huston has stepped behind the camera and into the director's chair.
She says she jumped at the chance to collaborate with Rosie O'Donnell, who plays a mentally handicapped woman in the Hallmark Hall of Fame drama (8 p.m. Sunday). O'Donnell also served as executive producer.
"She was a total pleasure to work with, extremely talented. She comes very prepared and is good to everyone," Huston said, calling her star "a major goodwill ambassador."
Inspired by Rachel Simon's autobiographical book of the same name, the film chronicles the relationship between the assertive but dependent Beth (O'Donnell) and smart, self-absorbed Rachel (Andie MacDowell).
Their uneasy sisterhood changes when Rachel joins in Beth's daily pastime of hanging out on city buses -- her way of interacting with a world that's sometimes harsh, sometimes kind.
The film eschews sentimentality in its depiction of Beth.
"You don't want to embrace her at all times," Huston said. "I think the movie comes from a pretty direct point of view -- which is this person is at the same time enchanting and exasperating, adorable and irritating."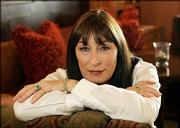 Huston is a relative newcomer to directing, with a resume including "Bastard out of Carolina" and "Agnes Browne." But her lineage is impeccable: Dad John Huston is ranked as one of the great Hollywood directors (with "The Maltese Falcon" and "The African Queen" among his films).
The toughest part was learning to say "action," Huston recounted.
"Because you feel really bogus," she said. "It's like anything. You have to get used to it. You have to get used to the sound of your voice as an actor.
Copyright 2018 The Associated Press. All rights reserved. This material may not be published, broadcast, rewritten or redistributed. We strive to uphold our values for every story published.