Buying a home in Lawrence isn't as popular as it used to be.
The number of homes sold in Lawrence during the first quarter fell 3.6 percent from a year earlier, according to the Douglas County Appraiser's Office.
The sagging market looks to be a reflection of an emerging reality in town: Prices continue to rise, while folks aren't making enough money to keep up. A new report out Wednesday showed that the city's growth in per-capita income had fallen well behind the national average.
All this as the average price paid for a Lawrence home during the first three months of the year climbed to $185,712. That was up $12,373, or 7.1 percent, from the same period a year ago.
"We have many people who live in town and work very hard but cannot afford to buy a home in Lawrence," said Bobbie Flory, director of the Lawrence Home Builders Assn.
The sales dip in Lawrence emerged as national reports this week indicated that sales of new and existing homes had reached record levels in March.
While such market success has managed to elude Lawrence, other areas of the county -- Baldwin and the unincorporated area -- have seen sales surge so far this year, according to reports from the appraiser's office.
In Baldwin, there were 27 home sales closed during the first three months of the year, up 15 -- or 125 percent -- from the same period a year earlier.
The unincorporated area had 22 sales through March of this year. That was up by a dozen, or 120 percent, from a year earlier.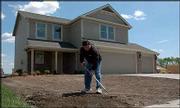 Such activity lifted the county's overall sales by 3.9 percent for the quarter, according to reports from the appraiser's office.
The numbers came as no surprise to Lisa Ramler, president of the Lawrence Board of Realtors.
"The surrounding towns are growing, and some people would prefer to live in a little smaller town that's a little more affordable than Lawrence," said Ramler, a Realtor for Realty Executives -- Hedges Real Estate. "Just because some people are moving out into the county or into a smaller town, it's still our business."
While sales numbers in Lawrence are down slightly, she said, the market remains strong -- both for buyers and sellers.
"Unfortunately, I would never say it's a buyer's market in Lawrence," she said. "We don't negotiate $10,000 off the price of a house very often. In other areas and other locations, people think they can negotiate to a lower price. That doesn't happen here."
Mark Buhler, an executive with Stephens Real Estate, said that the Lawrence market remained relatively consistent through booms and busts of the national market. The latest slowdown for Lawrence could reflect the inability of builders last year to find enough lots to build on, hampering the supply of new homes that would be available today.
Buyers looking for homes in the $250,000-to-$300,000 range are in luck, he said, with plenty up for sale.
But relatively few folks are willing to sell homes for less than $200,000, making it a seller's market because of the large number of people looking to buy in, he said.
"For a market to move up, you need to have balance in all price ranges," Buhler said. "You need to sell a house to be able to buy the next one."
Average prices paid in March for homes in areas of Douglas County, compared with March 2004, according to the Douglas County Appraiser's Office:¢ Rural: $220,526, up 20.2 percent.¢ Lawrence: $181,647, up 2.8 percent.¢ Baldwin: $164,666, down 11.3 percent.¢ Eudora: $153,722, down 10.3 percent.¢ North Lawrence: $115,000, down 13.2 percent.¢ Total Douglas County: $177,627, up 2.5 percent.
Copyright 2018 The Lawrence Journal-World. All rights reserved. This material may not be published, broadcast, rewritten or redistributed. We strive to uphold our values for every story published.