New York — The hemline could be up, it could be down. The most important thing this season is that your skirt is round.
Full skirts, especially bohemian styles in crinkled fabrics, are among spring's top looks -- and they'll probably be even more popular as the weather warms up and women abandon socks, stockings and stiff shoes, such as loafers and pumps.
"Spring is always a great season for skirts," says Lubov Azria, creative director for BCBG Max Azria. "I think it has to do with the shoes and all the open-toe shoes, the sandals, that women wear. You just don't show off such sexy shoes with pants."
Dressing also is more effortless when building an outfit around a skirt, Azria says. "All the skirts are now embellished, so simple tops, seamless tanks, seamless camisoles all make for an attractive silhouette, and you can put a cardigan over it. It's very easy, very comfortable, but it looks like an outfit. The colors don't even have to match."
And, she adds, there is a skirt out there to flatter every woman; it's just a matter of finding the right shape and the right occasion.
Azria personally stays away from short skirts for work and she expects to get a lot of use out of a long skirt with an embellished waistband that she plucked straight from the BCBG runway.
Typically, a loose gypsy-style skirt offers good camouflage to women who want to de-emphasize their hips and thighs, though very long versions can overwhelm a petite frame; and an A-line skirt, slimmest at the waist and then gently flaring toward the hem, creates a flattering silhouette.
The pencil skirt, with a slim waist and tapered hem, is harder to pull off.
A bustle-back skirt by Yves Saint Laurent is unexpectedly flattering, according to Sally Singer, fashion news director at Vogue. "It has some volume over the hips and it sits low, so it will play up slim calves. Even pregnant women might have those," she says with a laugh.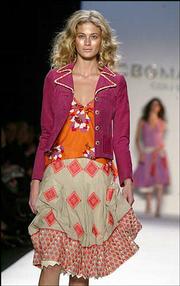 Bubble and tiered skirts also are summer-friendly options because they can be office-appropriate when paired with a jacket and flat shoe and make an easy transition to nighttime with a beaded tank top.
Women like to wear skirts because they make them feel feminine, according to designer Anna Sui, who has traded in her signature denim look for skirts this season.
"I think I'm guilty of wearing jeans for everything, but you can do that with a skirt, too. ... My skirts were just sitting in my closet. I like the ones that are soft but have fullness after the hips," she says.
Sui also notes that skirts are good for business because there are so many styles that women could always use another one in her wardrobe.
"I don't think there's been a season with so many kinds of skirts out there in a long time. There's one for everyone," Singer says, "and what's really nice is that you can wear it with a flat shoe."
Copyright 2018 The Associated Press. All rights reserved. This material may not be published, broadcast, rewritten or redistributed. We strive to uphold our values for every story published.