There's a reason pink is a staple in most women's wardrobe -- it looks good. And it looks good on most men, too, according to fashion editors at GQ who outfitted rapper T.I. in a pink wardrobe for the May issue.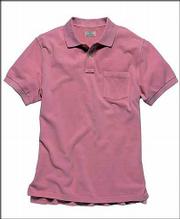 GQ's advice to men in pink:
Add a pink tie to a dark suit. It'll make the outfit look more summery, and it'll make you look more confident.
If you're going to wear a pink suit, make it seersucker. (A good tan helps pull off the look.) Also, you can separate the seersucker pieces, perhaps pairing the jacket with jeans.
Pink doesn't have to mean country club. Get the urban-preppy look by wearing pink with work boots, loose jeans or a chunky belt.
Introduce pink into your wardrobe with accessories, such as a watch strap or hat, maybe a Kangol-style cap.
Copyright 2018 The Associated Press. All rights reserved. This material may not be published, broadcast, rewritten or redistributed. We strive to uphold our values for every story published.