SANTA ANA, CALIF. — Frustrated by illegal immigrant criminals who slip their grasp, a growing number of state and county police agencies nationwide are moving to join a federal program that enlists local officers to enforce immigration laws.
The federal government has already granted that authority in Florida and Alabama, and the program is under consideration in Connecticut, Oklahoma and Arkansas.
It's also in the works in Southern California -- one of the nation's most ethnically diverse regions -- where it would reverse a long-standing local police policy of avoiding questions about immigration status during criminal investigations.
Immigrant rights groups insist the move will discourage people from reporting domestic violence or other crimes for fear of deportation, and that it would lead to racial profiling and other abuses.
"We're 100 percent against it," said Amin David, president of Los Amigos of Orange County. "It will have a chilling effect on our community."
Orange County Sheriff Mike Carona is proposing the largest use of the program in the country. He wants to train as many as 500 deputies to catch illegal immigrants who have had criminal convictions.
Under the plan, officers would only check the status of people already in jail or under investigation for serious crimes.
"We're just taking advantage of another law enforcement tool to take bad guys off the street," Carona said.
In neighboring Los Angeles County, the sheriff's department already has approval to train seven civilian employees this summer for a six-month pilot program to identify jail inmates who are eligible for deportation.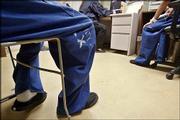 About 30 percent of the 18,000 inmates in Los Angeles County custody are foreign-born, but only two federal agents are assigned to determine who should be deported. Meanwhile, overcrowding has forced the county to release 200,000 inmates in the past three years before their sentences were completed.
"Our goal is to get them off the street and out of the country so local resources aren't spent on these individuals," said sheriff's Lt. Margarito Robles.
An estimated 465,000 people in this country have gone into hiding after receiving deportation orders, including as many as 85,000 immigrants who have been convicted of a crime, said Manny Van Pelt, a spokesman for U.S. Immigration and Customs Enforcement.
The agency, however, has only 4,000 detention and removal officers and 6,000 special agents to find them and handle other crimes.
"Even if we doubled the number of ICE agents, there wouldn't be enough," said Kris Kobach, a law professor at the University of Missouri-Kansas City who helped set up the program in Alabama while serving as counsel to former Atty. Gen. John Ashcroft.
Using local authorities to enforce immigration law has been allowed since 1996, when it was included as part of a broad immigration bill. But no local agencies participated until 2002, when 35 state and local officers in Florida completed the training and were authorized to take action on immigration violations in domestic terrorism investigations.
Alabama trained its first 21 officers in 2003 to deal with what officials called a lack of attention by the federal government to illegal immigration.
Copyright 2018 The Associated Press. All rights reserved. This material may not be published, broadcast, rewritten or redistributed. We strive to uphold our values for every story published.