New York — After a week of trade rumors and intrigue, the only drama in this NFL draft was the long wait for Aaron Rodgers.
With the top players considered relatively equal, quarterback Alex Smith went first as expected to San Francisco, and the other dominoes fell more or less the way they were supposed to.
But Rodgers, the Cal quarterback who the 49ers had considered at No. 1, fell most of the way through the first round until he was taken 24th overall by Green Bay to the cheers of fans at the draft. He will be groomed to succeed Brett Favre, who will turn 36 in October.
"I had already prepared myself for things not going my way," said Rodgers, who had been invited to the draft on the assumption he would be taken much earlier. "Things get a little screwy on draft day. We all know that."
The shortage of drama was in sharp contrast to last season, when San Diego took Eli Manning, who had expressed his desire not to play for the Chargers. They then traded him to the New York Giants for Philip Rivers, who the Giants had taken fourth overall.
"There's a lot of smoke this year, but very little fire," said Cleveland general manager Phil Savage, who entertained a number of offers before selecting wide receiver Braylon Edwards with the third pick.
In fact, the biggest fire may have come at the end of the evening at 11 p.m. EDT, when Denver used the final pick of the third round to select Maurice Clarett, the running back who led Ohio State to the 2002 national championship then left the Buckeyes.
He challenged the NFL rule requiring a player to be out of college for three years a year ago and was eventually turned down by the courts and was expected to go much lower after slow times in 40-yard dashes. The pick was 101st overall.
Edwards was part of a top nine that included three running backs, three cornerbacks and three players from Auburn, with quarterback Jason Campbell, taken by Washington with the 25th pick, the fourth Tiger taken. The three early Auburn guys were running backs Ronnie Brown, second overall to Miami, and Carnell Williams, fifth to Tampa Bay, and cornerback Carlos Rogers, who the Redskins settled for at nine when they couldn't trade up.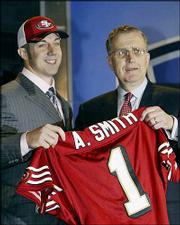 Smith, who is just 20, was considered the quarterback with the best chance to become a star, fitting for a team that had Hall of Famers Joe Montana and Steve Young but slipped to 2-14 last year. He was the fifth straight quarterback taken with the first pick.
"We felt that Alex was the one that most fit what we want our team to look like," said new coach Mike Nolan, who got decision-making power over personnel when he took the job. "He brings discipline, competitiveness and intelligence to the table. He is off the charts in all three areas."
Smith was off the NFL's charts until this year, when he led Utah to an unbeaten season and the first Bowl Championship Series appearance by a team from a non-BCS conference.
Rodgers' fall was one big surprise -- even Matt Jones, the 6-foot-6, 240-pound Arkansas quarterback who runs the 40 in under 4.4 seconds, was taken 21st by Jacksonville.
Rodgers said that once he fell beyond 10, he knew the next run of teams didn't need a young quarterback, so he was prepared.
The Packers were, too.
"It just didn't make sense that a player like this would drop like this. As our pick got closer, we started to get serious about taking him," general manager Ted Thompson said. "We didn't go into the day looking to take a quarterback but we felt by the time we picked Aaron Rodgers, he was the best player on the board."
Campbell was projected at best as a second-rounder after salvaging a mediocre college career with an outstanding senior season. It also shows less than a lot of faith in Patrick Ramsey, the Redskins' incumbent QB and their first-round pick in 2002.
Three more quarterbacks went in the third round: Charlie Frye of Akron to Cleveland, Andrew Walter of Arizona State to Oakland, and David Greene of Georgia to Seattle. The draft will continue today with rounds 4-7.
The other first-round surprises were minor.
Minnesota chose Troy Williamson of South Carolina, a faster wide receiver than the highly rated but taller Mike Williams of Southern California. Williams, kept out of last year's draft by the Clarett ruling, went to Detroit at No. 10, the third straight wide receiver to be the Lions' top choice.
Similarly, Adam "Pacman" Jones of West Virginia was the first cornerback taken -- by Tennessee, at No. 6. Antrel Rolle of Miami, who was rated ahead of Jones at cornerback on many boards, went two picks later to Arizona, followed by Rogers to Washington at nine.
Copyright 2017 The Associated Press. All rights reserved. This material may not be published, broadcast, rewritten or redistributed. We strive to uphold our values for every story published.