It simply doesn't get any better than this.
These three books for kids 8 to 12 are so engaging and so exquisitely written that every word is worth savoring. The only bad thing that can be said of any of them is that they have to come to an end.
All three volumes deal with fantasy, and they are especially notable for the authors' narrative skills. Freshness of language and strong emotional impact make them stand out from hundreds of other books with the same kind of subjects.
"The McElderry Book of Aesop's Fables," by Michael Morpurgo, with excellent illustrations by Emma Chichester Clark, tells these morality gems with such wit and fluidity that the pages fly by. Profound though the messages are, the book (Margaret K. McElderry, $19.95) is so deft that the stories make their impact without effort.
Readers at first don't notice that there is a message because the storytelling is conversational. Each tale's final sentence, which lays out the moral in capital letters, is absolutely on-target.
Morpurgo takes Aesop's wisdom and makes it kid-friendly. And adults will be struck by the newness he gives to old, familiar stories.
Magic is the subject of "The Hidden Folk: Stories of Fairies, Dwarves, Selkies, and Other Secret Beings" (Houghton Mifflin Company, $18). Written by Minnesota folklore expert Lise Lunge-Larsen and boldly illustrated by Beth Krommes, this fascinating volume treats mythical beings as universal characters in people's lives.
Each narrative tells a story about how the "hidden folk" have influenced the existence of humans. One tale recounts how lilies of the valley came to exist, and in it there is a sense of wonderment that can leave no child unaffected. The other stories are equally fantastic and fantastically effective.
The scratchboard illustrations provide a very different kind of art than most kids are used to. They will by struck by the expressiveness, which suits the stories so well.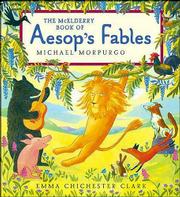 Susan Cooper's "The Magician's Boy" (Margaret K. McElderry Books, $14.95) is a different take on the time-honored story of St. George and the Dragon. Effectively illustrated by Serena Riglietti, this story has many comic elements but also a welcome mystical quality.
Cooper, one of the world's most-honored children's books writers, is in her element here. She weaves together familiar fairly tales with the legend of St. George in an ingenious way, delivers a dynamic ending, and make the whole thing fun and inspiring at the same time.
The twists and turns are clever, and kids will have to think quickly to keep track of plot developments. But there won't be any complaints. It's complex, but it's hardly hard work. In this case, complexity is what makes the book so rewarding.
---
Lois Henderlong is a freelance writer who has reviewed children's books for publications across the Midwest. She lives in La Porte, Ind., and can be reached at loisirene@csinet.net.
Copyright 2017 The Lawrence Journal-World. All rights reserved. This material may not be published, broadcast, rewritten or redistributed. We strive to uphold our values for every story published.