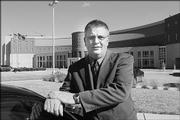 On Sept. 11, 1999, when the new 196-bed Douglas County Jail opened east of Lawrence, no one had any idea that five years later officials would be searching for a way to house more prisoners.
But that is exactly what happened last month when Douglas County commissioners gave the go-ahead for renovation of the jail so it could house more inmates.
"Everybody is astounded that this facility has reached capacity or gone over it in just five years," said Douglas County Undersheriff Ken Massey, the jail's chief administrator.
In late March, the sheriff's office received permission from commissioners to hire Lawrence-based BA Green Construction Co. Inc. for the renovation project, which will center in the area where work-release prisoners are held. There have been 56 beds in work-release, but generally they are not all used. The renovation will allow 20 to 25 beds to be freed up for other prisoners. It also will include construction of a new recreation area for those prisoners.
Currently there are no formal plans to expand the jail building, Massey said.
"The jail is designed to add on to it," Massey said. "Before we get to that, we have got to sit down and do some in-depth studies on why our population is where it's at and the factors that are contributing to that population."
Although the jail was built to house 196 prisoners, that figure can be misleading, Massey said. If you take away the under-utilized 56 work-release beds, that leaves 140. There are 25 more beds used to house women inmates. That leaves 115 beds.
Depending on their classification, remaining prisoners are sent to maximum, medium, minimum or special management sections of the jail. The largest of those sections is 56 beds in medium security, Massey said. That also is where most of the prisoners are assigned and where it is usually at capacity, he said. It is not usually feasible to put any overflow of medium-security prisoners elsewhere, although some have been able to be reclassified for minimum security, he said. The women's unit has been full most of the past few months, he said.
Arrangements have been made in the past to pay other counties, such as Jefferson and Atchison, to house some of the extra prisoners. Last year the county spent $124,000 to house inmates in other jails.
In 2004 the monthly jail population ranged from a low of 143 in January to highs of 170 in June, July and August. That includes the prisoners who were sent to other jails, Massey said.
Although more studies need to be done, projections were recently developed to see what the average future jail populations might be. Those projections say to expect an average daily jail population of 180 in 2006 and steadily increasing to 297 in 2010.
One of the factors leading to the increase of inmates are increasing numbers of arrests by the Lawrence Police Department as it copes with a growing city and action by the courts. The state has its own prison population problems, thus county inmates convicted of crimes and headed for a state prison cell are having to wait longer until there is room for them, Massey said.
"Quite frankly, we don't have control of our inmate population," Massey said. "We are just the keepers of our clients, so to speak."
Copyright 2018 The Lawrence Journal-World. All rights reserved. This material may not be published, broadcast, rewritten or redistributed. We strive to uphold our values for every story published.